14 March 2020
We went to see Tim Walker's photography show "Wonderful Things" at the V & A museum the other day. Walker really stretches boundaries and is one of the most imaginative photographers working right now. He's specially well known for his spectacular fashion shoots in "Vogue," but the show also included many personal projects, which I found even more interesting after I had read his own accounts of how he came to conceive and create them. His work may seem alive and full of movement, but it is the opposite of spontaneous, and relies on often gigantic and elaborate sets and truly surreal props.
So Walker's just the person to do an "Alice" project, you'd think; specially since in the introduction to the show he actually mentions Wonderland. I was surprised to spot only one definitely Alice-themed photograph (above). When I looked up his website afterwards, though, I found a whole group of "Alice" themed pictures, in a different style. They are images numbers 7-15 on
this website carousel.
The "Alice" iconography is so familiar and so many artists have tackled the book that it must be frustrating to try and create anything wholly original. Since extreme originality is one of Walker's main characteristics, I don't feel these Alice pictures are among his most typical images, although I don't think I ever saw black or white models used to represent the chess set...
Oh, come to think of it, perhaps I should go back and look a bit harder...
28 February 2020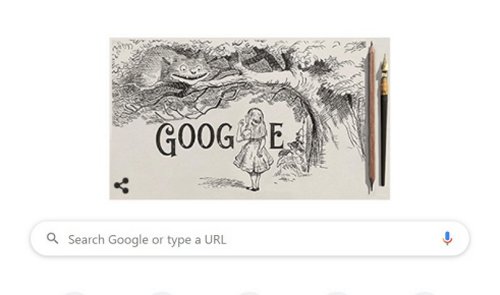 Today Google's Doodle features John Tenniel, who did the famous original illustrations for the Alice books. Tenniel, who became the principal political cartoonist of "PUNCH" magazine, was born on the 28 February 1820. He seems to have been a quiet, retiring and somewhat introverted man - long suffering, too, if an anecdote about his youth is to be believed. It seems that his father was a dancing and fencing master, who taught his son to fence. When he was 20, Tenniel was fencing with his father when his father accidently hit his eye with the tip of his foil. Tenniel never told his father that his eyesight had been permanently damaged by the accident, because he did not want to upset him.
He indicated that he found it a strain to work with Lewis Carroll because Carroll was so demanding. In fact, after illustrating "Wonderland" Tenniel actually refused to illustrate "Looking Glass," to Carroll's dismay... I wonder how Carroll persuaded him to change his mind.
04 February 2020
I've always thought that Lewis Carroll was essentially a story-
teller
rather than a writer. All the evidence suggests that his best work was done for an audience, real or imaginary. He wrote both "Alice" books when he felt exceptionally lonely, sad and stressed. They evoke happier times when he had expressed his thoughts and ideas to a sympathetic audience who loved him undemandingly and understood what he was trying to say.
Although he had many good male friends and was close to many male relatives, he seems to have valued the company of women and girls rather more than the company of boys and men. The social customs at the time made it difficult for him to become close to women as a young man, but once he reached late middle age he spent most of his spare time with women. He suffered from bouts of severe depression, and his treasured collection of little girl friends late in life, (which was considered really amusing by some who knew him) was recognised by his family as one of the ways he coped with the depression. Their visits and letters indicated that they loved and genuinely wanted his company.
The modern idea of "empowerment" of women and girls was long in the future in the 1860s and 1870s. But one reason that so many girls liked (and still like) "Alice" was because Carroll portrayed this seven year old girl with such personal respect. This was at a time when adult women were considered frail, weak, hysterical, and not capable of running their own affairs- and children were seen as creatures to be socially trained and their opinions and feelings were generally completely disregarded. Alice, though only 7, was strong, determined and had the confidence of youth, aiming to deal sensibly with whatever was thrown at her, even when she was scared, baffled and worried. A similar empowering approach is shown in this story Carroll told to little Mary Watson in 1871, (the same year as he wrote "Looking Glass.") In this new take on the "Three Little Pigs," Mary, though very young, calmly plans how to outwit the evil and frightening fox. It's fortunate that Mary Watson saved the pictures which he sketched to accompany his story. They are shown above and the text is
here.
24 January 2020
I was always in love with Kermit the Frog, and so VERY happy to find this on Youtube. Enjoy!!!!



05 January 2020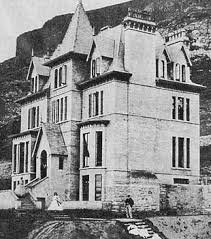 I subscribe to a tourist newsletter from Wales and noticed in the latest edition that Llandudno has finally woken up to the tourist value of its "Alice in Wonderland" connections. Click
here
for information about an augmented reality town trail featuring the characters in appropriate locations. If you're an Alice fan heading for that part of Wales it's worth checking out. (Actually, I couldn't find the app on the Google Play link, but that might be a temporary glitch. )
It's not clear if Carroll ever got to Llandudno, though it's thought he probably did. If so, he's very likely to have visited or even stayed in "Penmorfa," the holiday home that Dr. Liddell built for his family, and where Alice and her family most certainly did stay, often. "Penmorfa" later became a hotel (shown below), but unfortunately, despite the fact that it was the obvious centrepiece for any Alice trail, it was demolished in 2008, amidst many local protests, to make way for apartments, or so it was said. However no apartments were ever built, and the site has lain derelict for 10 years as an eyesore. in late Spring 2019 Anwyl Construction, who demolished the house, were reported to be submitting new plans. I don't know if they have yet, couldn't find any updates.
Actually from this
piece, it sounds as if there might be some doubt about it, at least from the Llandudno folk who have commented on it.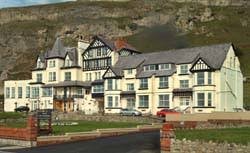 12 December 2019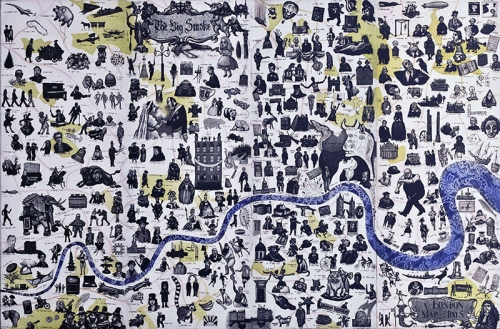 The other day I came across The London Map of Days, by
the distinguished North London printmaker Mychael Barratt.
As the name suggests, it marks notable events for each day of the year, and I was glued to it for quite a while, studying the multitude of things that have happened in London.
Right up at the top of the print I noticed 4 July 1865.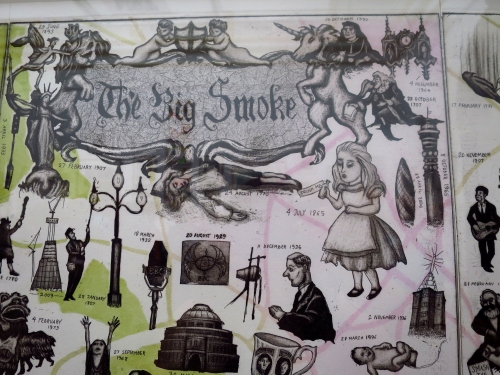 At first I was surprised - I associate the publication of Alice in Wonderland so closely with Oxford - but of course Macmillans was based in London and that is where the book was published.
22 November 2019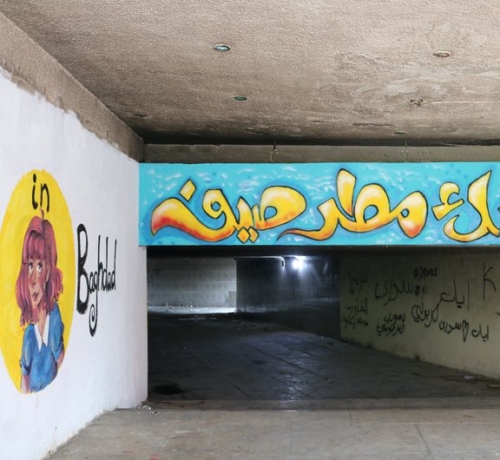 I had never expected to find Alice featuring in political graffiti in Iraq, but her appearance in hand-painted graffiti on a subway in Baghdad is eye catching. Some people in Iraq feel that after recent events, the old political system is no longer an option. They feel as if they are lost in Wonderland.
I wonder what Lewis Carroll would have thought.
03 August 2019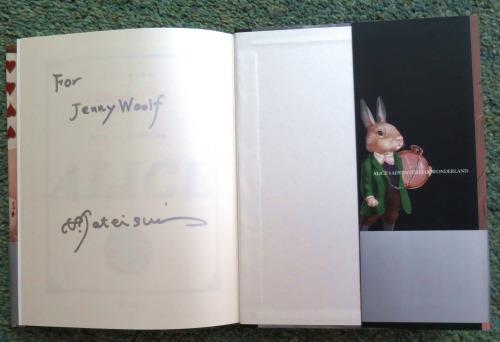 I'm sorry that I've had some problems with posting here. While I was waiting for it to be fixed, my friend Yoshi Momma from Japan sent me a wonderful book, one of my favourite Alice illustrated books. It's a signed Japanese version of "Wonderland" and "Through the Looking Glass" illustrated by the amazing artist Shuji Tateishi. I'm posting a selection of my favourite illustrations, together with the cover. My favourite images are not really of Alice herself, but of cats - Dinah (of course) and the Cheshire Cat, but I am also posting some other images of parts of the stories that you will recognise.
What makes these pictures so good is their originality. Most illustrators in some way refer back to Tenniel - but not in this case. Mr. Tateishi has approached the story in a really fresh and original way, referring to Lewis Carroll's photography for instance in this image of the Cheshire Cat...
The cat gradually appears and disappears, like a photographic image in the darkroom.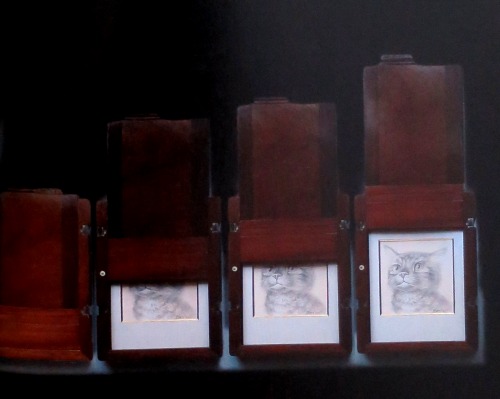 The Cheshire Cat's smile is as mysterious as Mona Lisa...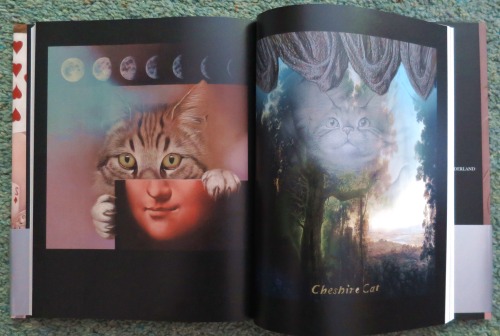 Here, in the Frog Footman scene, we see how the letter and the stamp create a vintage impression.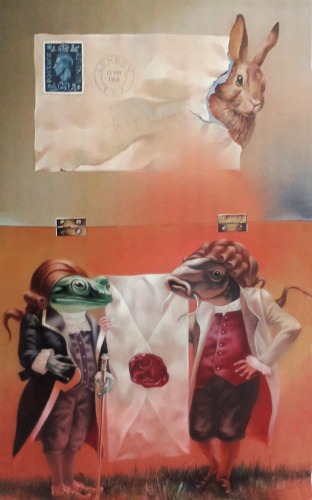 But Mr. Tateishi hasn't used a Victorian stamp, he has in fact given his images a British 1940s/50s flavour. I'd love to know if he first saw Alice in a 1940s illustrated book!
Here is the kitten, Dinah, who represents a pawn - the smallest, humblest character in Alice's household.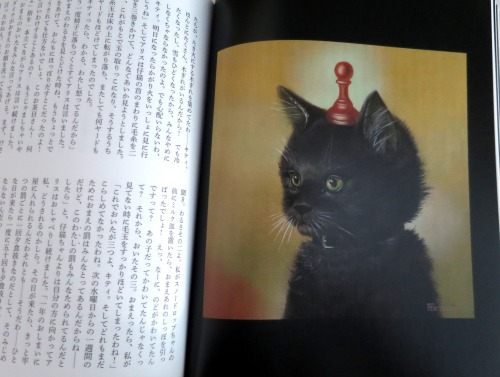 And I like the Mad Gardeners.
Edward Wakeling, who is probably THE world expert on Lewis Carroll, said he thought this book was "absolutely gorgeous....I have not seen better illustrations for a long time." He describes examining them for 45 minutes on first getting the book, and then, he says, he returned and examined them again for a further hour! I too have found myself looking at them again and again and I hope also that these pictures will soon appear illustrating an English language version of the "Alice" books.
Many thanks again to Yoshi!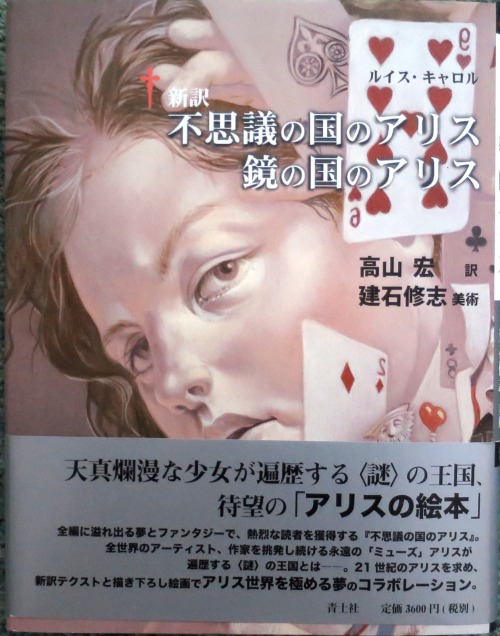 The book, by the way, is published in Japan, by Seidosha, and dated 2019.
11 July 2019
A fantastic exhibition at the V & A Museum has just been announced for next year. "Wonderland," from ACMI, Melbourne, explores how Alice inspired revolutionary film-making, groundbreaking special effects and animation, evocative storytelling and technological development and offers visitors an original, immersive trip into "worlds within worlds within worlds." It runs at the V & A from June 2020 to 10 January 2021. If you're an Alice fan and thinking of visiting London next year, you might like to build it into your schedule! Take a look!
https://youtu.be/qbYnlXDPMcc

12 February 2019
I was surprised to receive this from Yoshi! Usually he sends me Lewis Carroll material, but this is a copy of "My Family and Other Animals" in Japanese! Thank you Yoshi!