12 December 2019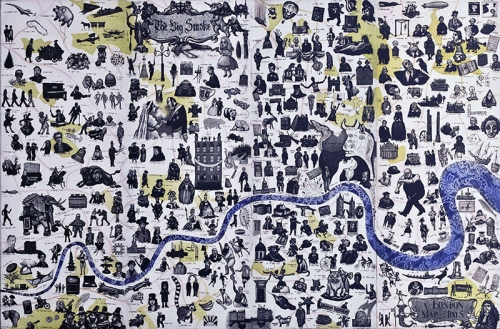 The other day I came across The London Map of Days, by
the distinguished North London printmaker Mychael Barratt.
As the name suggests, it marks notable events for each day of the year, and I was glued to it for quite a while, studying the multitude of things that have happened in London.
Right up at the top of the print I noticed 4 July 1865.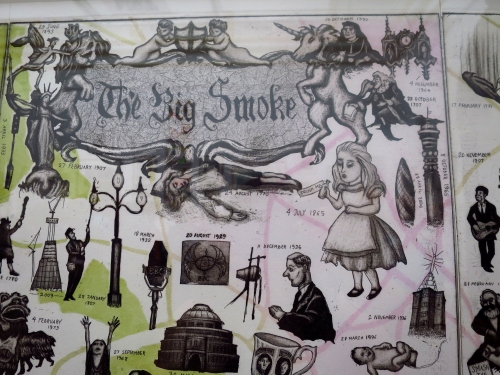 At first I was surprised - I associate the publication of Alice in Wonderland so closely with Oxford - but of course Macmillans was based in London and that is where the book was published.
22 November 2019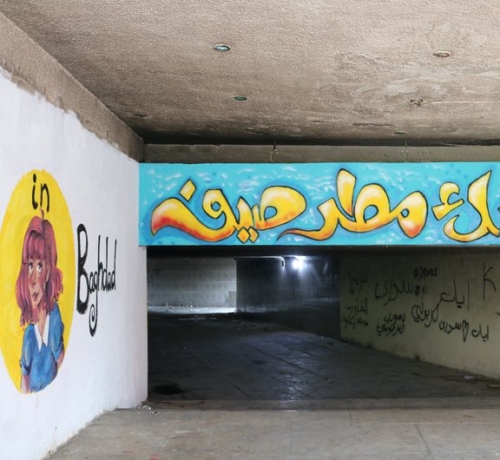 I had never expected to find Alice featuring in political graffiti in Iraq, but her appearance in hand-painted graffiti on a subway in Baghdad is eye catching. Some people in Iraq feel that after recent events, the old political system is no longer an option. They feel as if they are lost in Wonderland.
I wonder what Lewis Carroll would have thought.
03 August 2019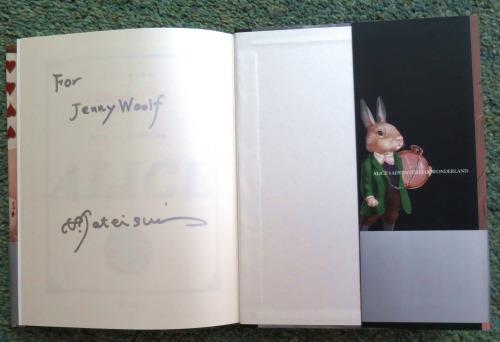 I'm sorry that I've had some problems with posting here. While I was waiting for it to be fixed, my friend Yoshi Momma from Japan sent me a wonderful book, one of my favourite Alice illustrated books. It's a signed Japanese version of "Wonderland" and "Through the Looking Glass" illustrated by the amazing artist Shuji Tateishi. I'm posting a selection of my favourite illustrations, together with the cover. My favourite images are not really of Alice herself, but of cats - Dinah (of course) and the Cheshire Cat, but I am also posting some other images of parts of the stories that you will recognise.
What makes these pictures so good is their originality. Most illustrators in some way refer back to Tenniel - but not in this case. Mr. Tateishi has approached the story in a really fresh and original way, referring to Lewis Carroll's photography for instance in this image of the Cheshire Cat...
The cat gradually appears and disappears, like a photographic image in the darkroom.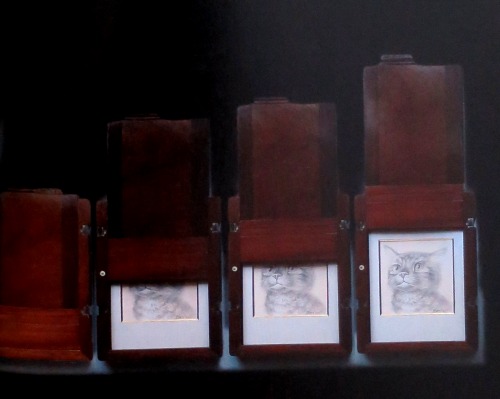 The Cheshire Cat's smile is as mysterious as Mona Lisa...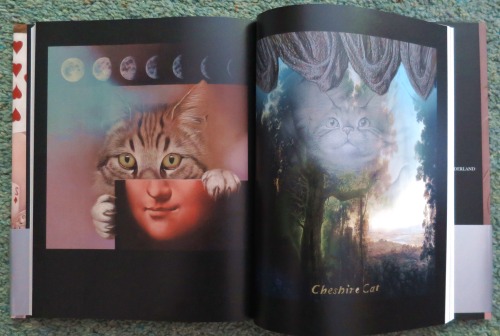 Here, in the Frog Footman scene, we see how the letter and the stamp create a vintage impression.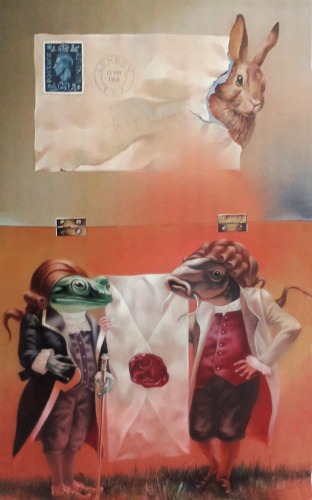 But Mr. Tateishi hasn't used a Victorian stamp, he has in fact given his images a British 1940s/50s flavour. I'd love to know if he first saw Alice in a 1940s illustrated book!
Here is the kitten, Dinah, who represents a pawn - the smallest, humblest character in Alice's household.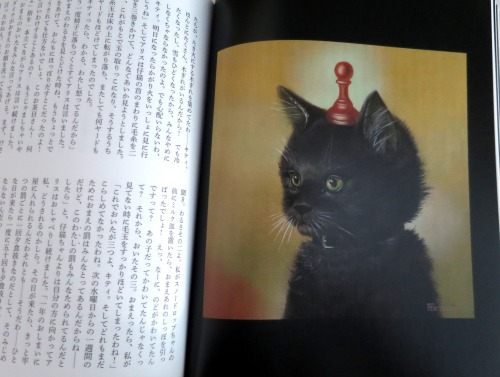 And I like the Mad Gardeners.
Edward Wakeling, who is probably THE world expert on Lewis Carroll, said he thought this book was "absolutely gorgeous....I have not seen better illustrations for a long time." He describes examining them for 45 minutes on first getting the book, and then, he says, he returned and examined them again for a further hour! I too have found myself looking at them again and again and I hope also that these pictures will soon appear illustrating an English language version of the "Alice" books.
Many thanks again to Yoshi!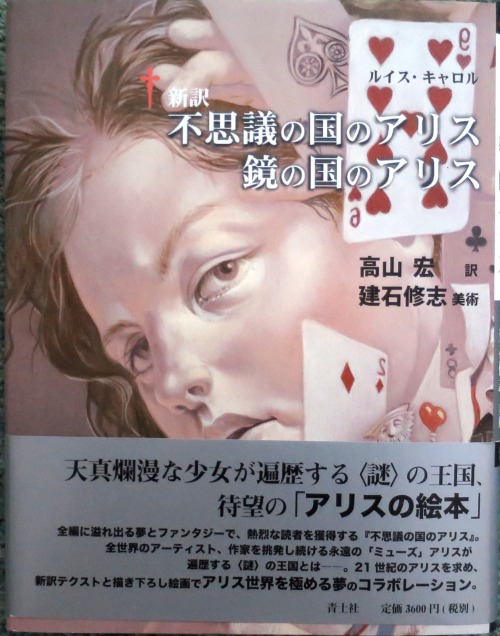 The book, by the way, is published in Japan, by Seidosha, and dated 2019.
11 July 2019
A fantastic exhibition at the V & A Museum has just been announced for next year. "Wonderland," from ACMI, Melbourne, explores how Alice inspired revolutionary film-making, groundbreaking special effects and animation, evocative storytelling and technological development and offers visitors an original, immersive trip into "worlds within worlds within worlds." It runs at the V & A from June 2020 to 10 January 2021. If you're an Alice fan and thinking of visiting London next year, you might like to build it into your schedule! Take a look!
https://youtu.be/qbYnlXDPMcc

12 February 2019
I was surprised to receive this from Yoshi! Usually he sends me Lewis Carroll material, but this is a copy of "My Family and Other Animals" in Japanese! Thank you Yoshi!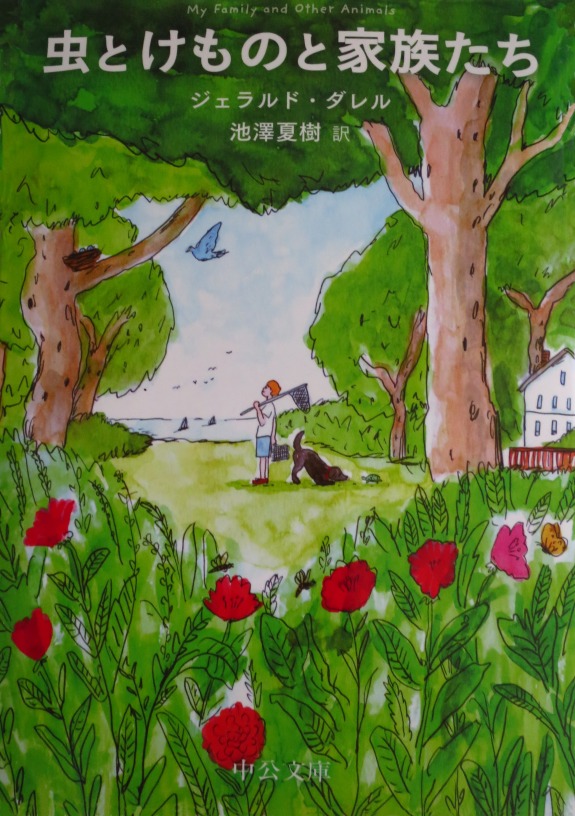 19 January 2019
There's been a problem with my blog, and I haven't been able to upload photos for a while. Now it's fixed and I can put up these "Alice" postcards, sent by my friend Yoshi from Japan. They're in a set called "Alice Tea Party" by the artist Tomomi Hasegawa. I like them all but my favourite picture is the first, where Alice is surrounded by butterflies. All the pictures are done in a typical modern Japanese style, with Alice looking serious and thoughtful.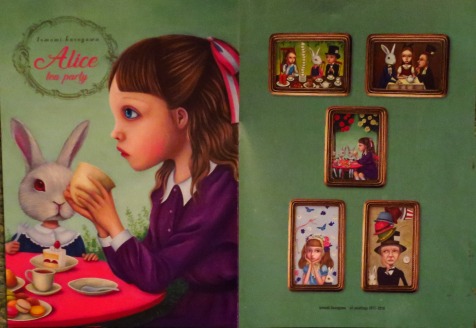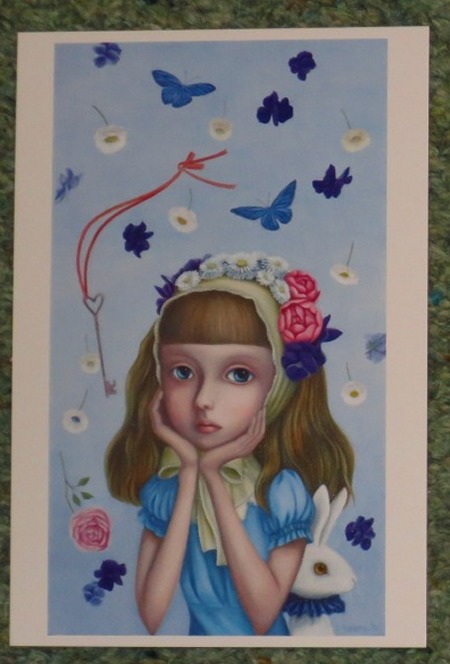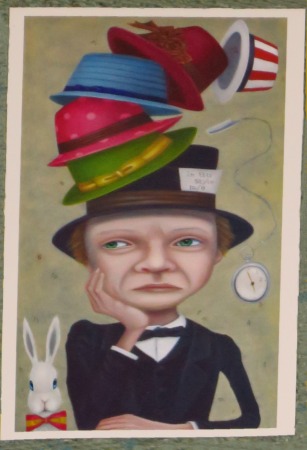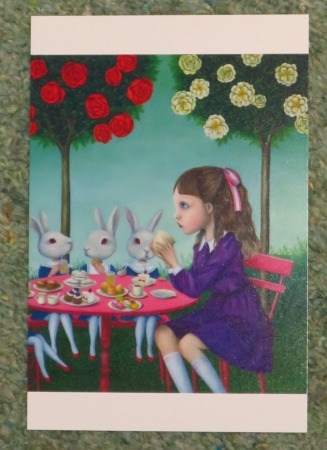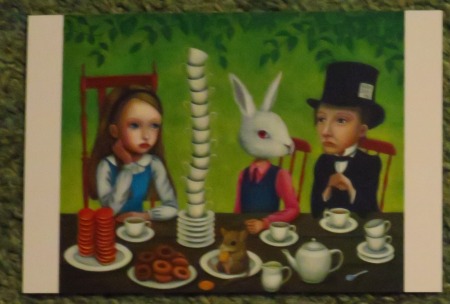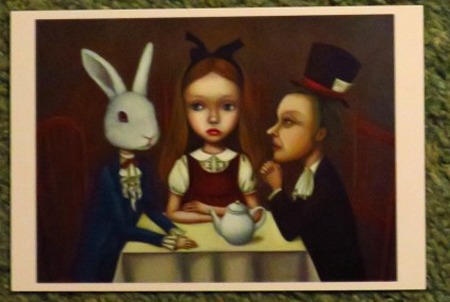 And Ms Hasegawa signed one of the postcards on the back with a White Rabbit. It seems to me that every character in "Alice" has a very distinct personality. My favourite is probably the surprising and elusive Cheshire Cat, and I think the White Rabbit is Yoshi's favourite - he didn't tell me why.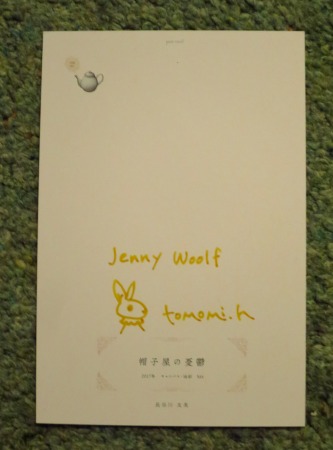 I wondered if she's done any more "Alice" pictures.
28 November 2018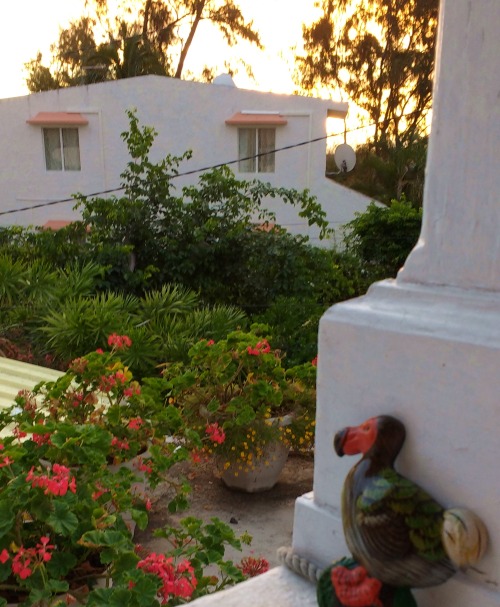 From now on, I'll be blogging from time to time about my new project - a book about Gerald Durrell and Mauritius. Yes, Mauritius - land of the Dodo!
I'll probably do a redesign of my website to reflect this new project, but right now I have so many interview recordings to transcribe, and many more interviews to do. Notes to write up, books to read - wow!
Needless to say, I'm still interested in Lewis Carroll, and if I find out new material on him, of course I'll keep you up to date.
23 October 2018
My friend Eiko found this amazing advert with an "Alice" theme. I don't know which brand it is, though - I don't recognise the logo. Do you know? :)



Thank you to Yoshi! :)

02 July 2018
As I've said before, Alice is very popular in Japan. If you're learning Japanese, "Alice in Kanji Land" has been recommended to me by a Japanese learner as very good resource. It takes an original and creative approach to the difficult business of learning the Chinese characters which in Japan are known as kanji .
But who is the author?
"Cure Dolly," a cartoon avatar,
is really - well, er who ....? or what? Hey, I don't know who "Cure Dolly" might be!
You decide :)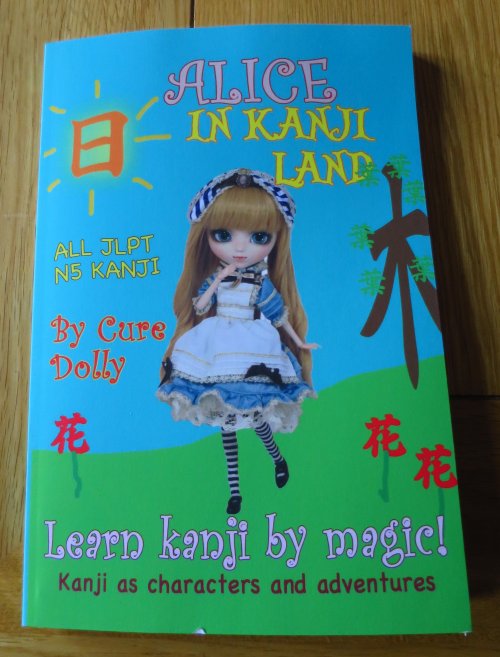 30 May 2018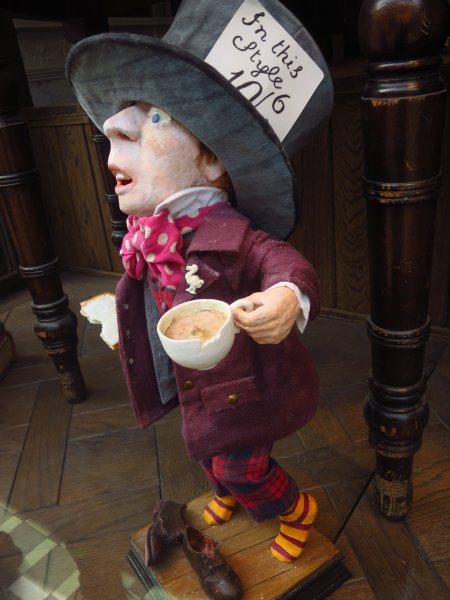 I was cycling down Lamb's Conduit St. near Holborn, in London, when I spotted a shop called
Connock and Lockie
at No. 33. They're old established bespoke tailors, and have been in their present premises since 2004. However, not having much need for gents' bespoke tailors, I hadn't noticed them before. It was hard, though, to ignore several splendid figures in their windows, all of them on the theme of Alice in Wonderland.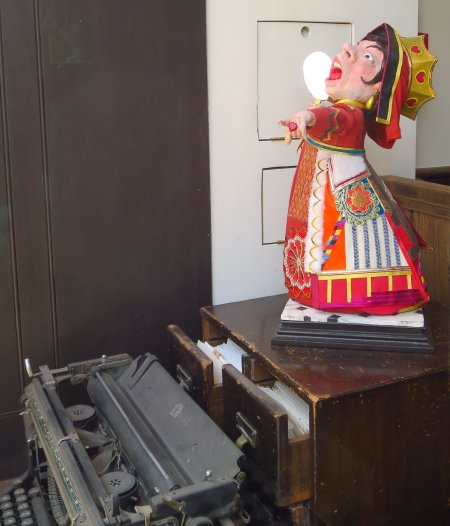 They're quite large, and very striking, and although there weren't that many pedestrians, a couple of people did stop and take photos while I was there so I wasn't the only one whose eye was caught.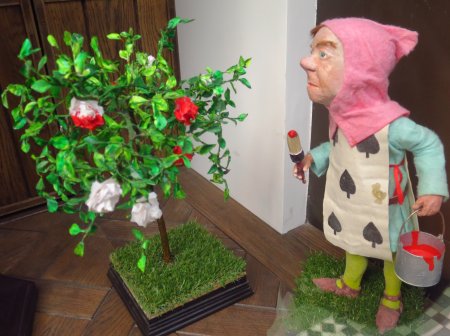 A notice by the White Rabbit's feet seems to suggest the models were made by what I thought must be a company, by the name of "Dodo's and Obelisk's" (punctuation as written). But an internet search doesn't find any business of that name.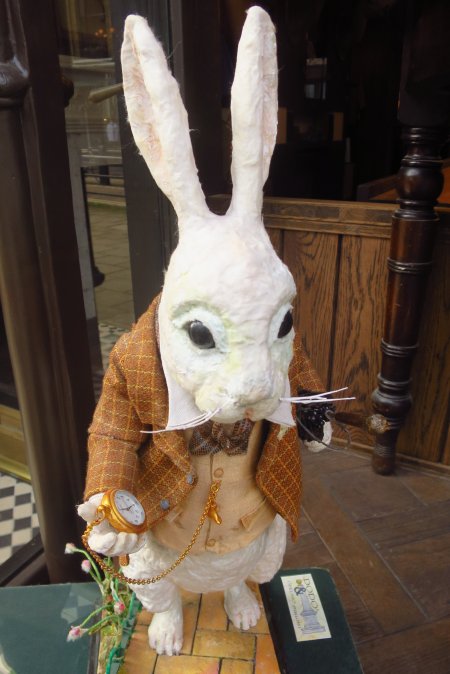 I suppose I should have asked Connor & Lockie why they had these Alice models in their window, but I suspect the answer might be just "because we liked them."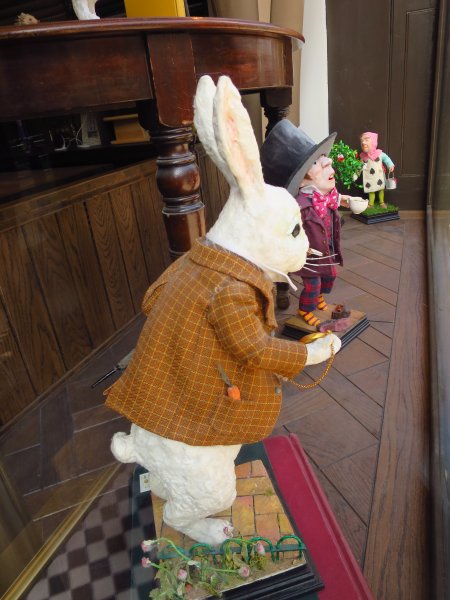 And I could find out about Dodo's and Obelisk's by calling the phone number on their card, I suppose, but I suspect they'd feel I was wasting their time, since I am sure I couldn't afford to get them to make anything for me!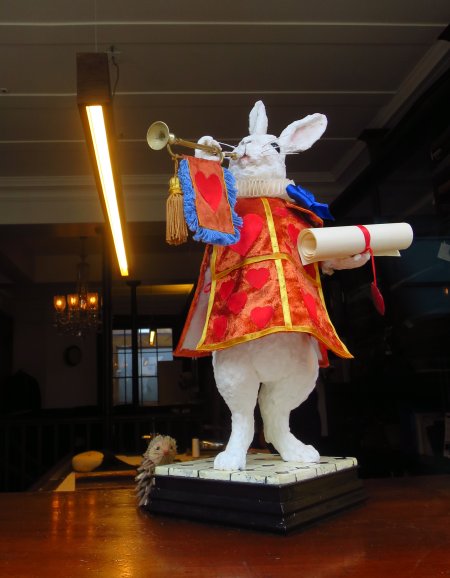 Let me know if you ever find out about them!