31 October 2021
Nicolas Codron is a French paper artist, making artist's books and pop-ups, with
objets
in many collections, including the Met in New York. He's very interested in Alice. I was taken by this image of the White Rabbit's watch, with what seems to be a shadow of the White Rabbit racing across it. Some of his Alice items are included in his current exhibition in Paris, at
Chantrelivre bookstore.
See what you think of his miniature "Alice " book
over on Instagram,
with echoes of the original binding which Lewis Carroll chose himself.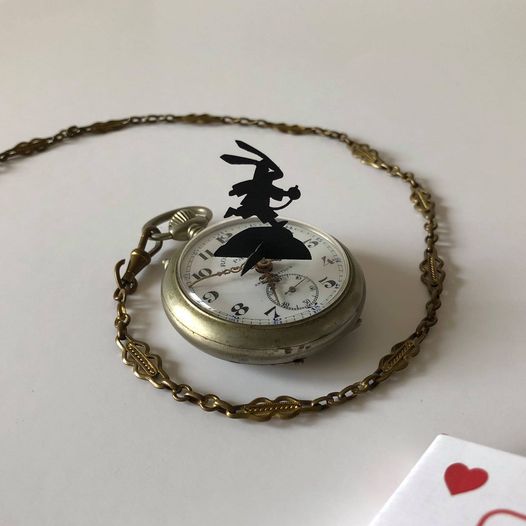 04 September 2021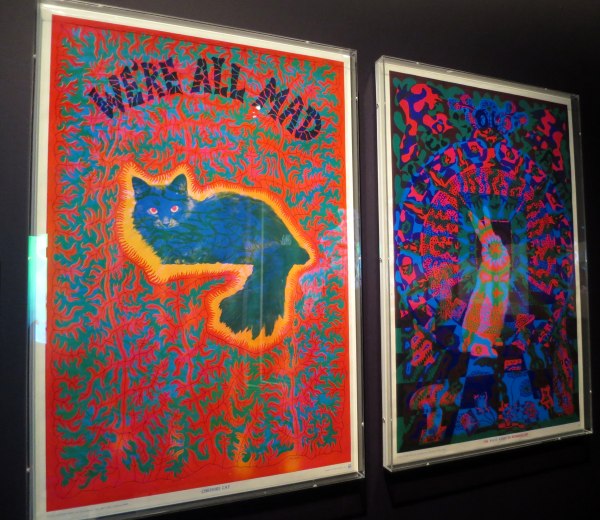 Finally, I managed to see "Curiouser and Curiouser" , the V & A's major exhibition on "Alice" - in particular the evolution of the story from a manuscript to a global phenomenon.
It's been eagerly awaited by Alice fans, but most of the time it was on last year, Britain was in lockdown and the museum was either closed, or had very restricted opening. Even after they extended the show, it was hard to go during the earlier part of this year. Tickets are in high demand, and we had to book
here
at 12 noon sharp on a Tuesday to be sure of getting in!
Anyone who has watched this
"Secrets of the Museum"
episode on the BBC will know how much trouble went into creating a Mad Tea Party for the exhibition. Animated film was used to create and change colours and patterns on the table,crockery and tablecloth (which swooshed up and spread out like a banner.)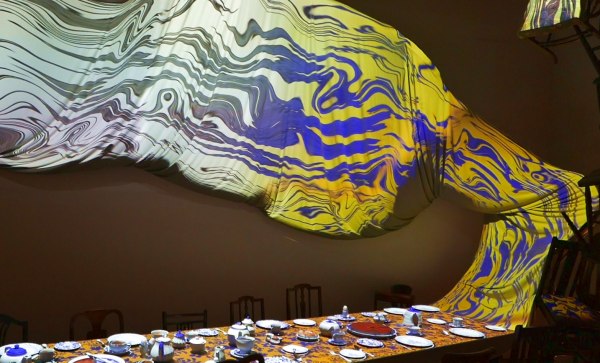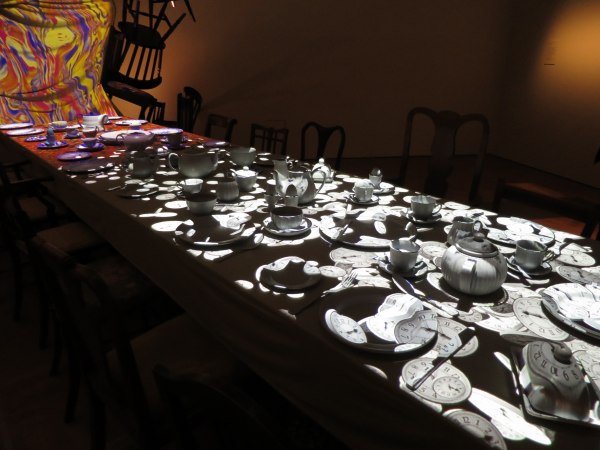 Alongside the animation was a clip from Jonathan Miller's BBC "Alice in Wonderland" film. This film uses many top actors and has a wonderful Gothic atmosphere. Unfortunately, though, Miller demanded a strange performance from the actor who portrayed Alice, in which the poor girl was supposed to represent a blank space in which the viewer could project themselves. It can't have been much fun for her to play. Here's a clip to give you the general atmosphere..
Anyway, when the clip from the film has finished, the teaparty begins to change colour and apparently come to life. It is worth checking on Youtube to see whether anyone has put a film of this on. Certainly many people were filming it when I was there.
The teaparty is one of the big setpieces, but since I'm most interested in Lewis Carroll as a person, I liked the parts which cast light on him and his world. (I noticed that this was also the section that had most people lingering and examining the exhibits carefully.) There are too many to mention but they include a dodo skeleton, and lesser known bits of Carrollania, as well as toys and small objects inspired by the book, such as this little cut out scene spied through a hole in one of the doors. It is, of course, the wondrous garden which Alice glimpses through the tiny door when she is shut in the hallway.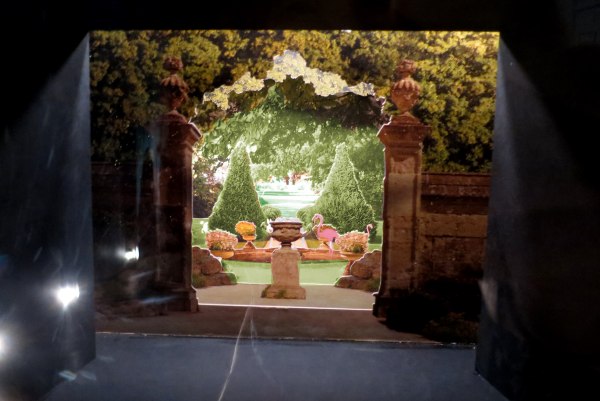 There are also sketches which Carroll apparently did for his own illustrations of the handwritten version of the story which he gave to Alice Liddell herself, and a set of cards for the game of "Ways and Means" which he created in his youth to amuse his many brothers and sisters. I like the card showing the young man representing "The Friend" although the resigned looking cat also makes me smile.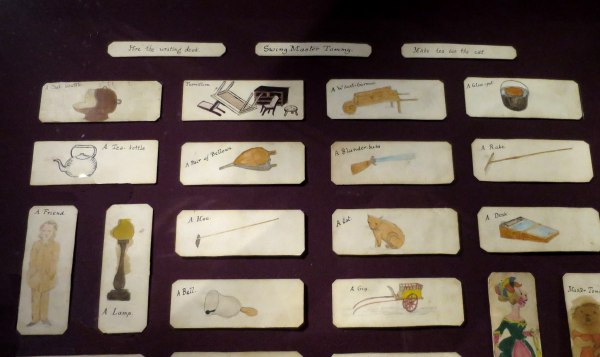 I had hoped that someone might have made up a replica of this game to sell in the gift shop, as I'd have liked to know how it was played, but that wasn't the case.
I also liked a paper panorama of Humpty Dumpty's story which the Dodgson children played with in their youth, and almost certainly would have been in Carroll's mind when creating his own Humpty Dumpty character.

Many of the exhibits showed aspects of the Victorian age which were relevant to "Alice" the book. This huge, expensively made and somewhat grotesque clock (below) could only ever be Victorian, and to me it sums up the period well, right down to the rather moralistic reminder that TEMPUS FUGIT in enamelled mock-medieval lettering.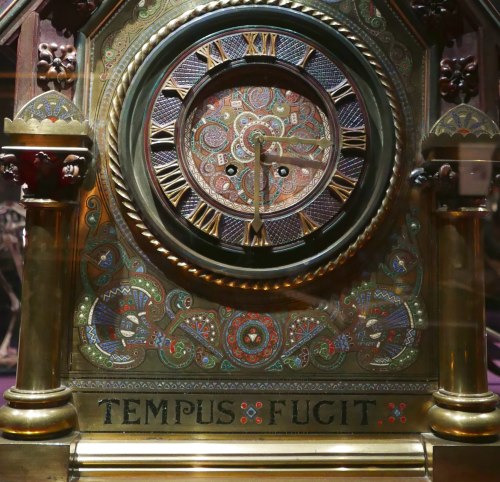 The exhibition catalogue has many pages of pictures from
the virtual reality exhibit
and many of the gifts in the giftshop also feature the VR steampunk-style artwork, which was created by Kristjana S. Williams
In real life, I'm not sure how many people got to see the VR at the show. There weren't many headsets, and a long and rather crowded queue offered a twenty minute wait for the chance of five minutes playing the Queen at Hearts at croquet. But it looked fun, and well done, and if you have VR at home, you can download it for a very reasonable price.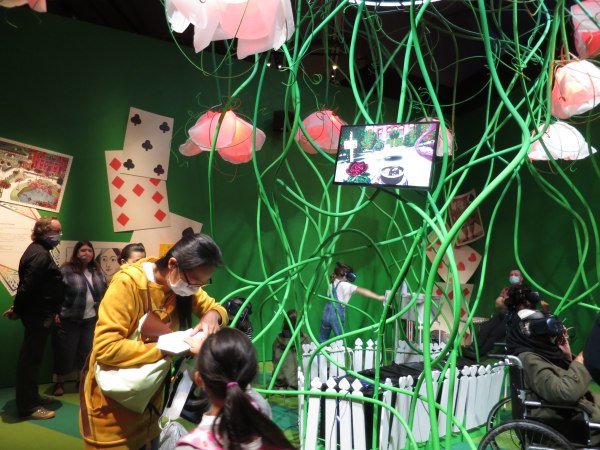 There is a large but rather sparse section on the seaside. I thought the highlight of this was a big animation of bubbling water cascading ceaselessly into a pool, with quotes from the book floating about .... mesmerising.
The seaside area contains a section on film and theatrical performances, including several gorgeous vintage film posters and material I hadn't seen before. In fact, even when I went to the Walt Disney Family Museum in San Francisco, I didn't manage to see all Mary Blair's brilliant conceptual sketches for how the Disney "Alice" should look, so it was really good to see them again. They were hard to photograph at the show, so
I've linked to some online images.

One of the more baffling Disney-related exhibits was also in this section. It is part of a transcript of a discussion between Walt and Aldous Huxley, who was apparently being considered as an advisor to the film. Aldous Huxley? Why? Could he have been asked because of his experiences with mescalin? It's hard to imagine Walt wanted to make a feature of drug use, but who knows?
But, obviously, hallucinogenics do have their place in the show, including posters from the shortlived but famous American studio "East Totem West" (they did the cat at the top of this post). And, perhaps predictably, there was a film of Jefferson Airplane's "Go Ask Alice."
The exhibit before the exit was one of my favourites. It shows ribbon-like projections constantly twisting and bending into curious shapes - a bit like flowers, a bit like trees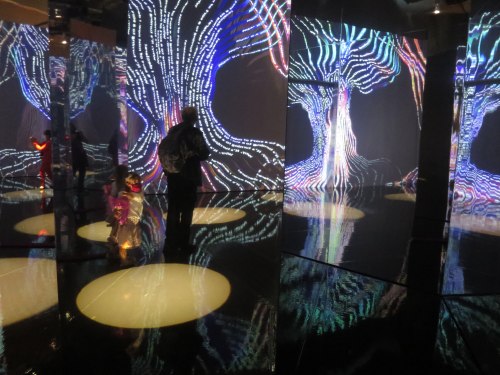 They display some of Alice's more prescient or thought provoking comments, such as "I don't want to be anybody's prisoner - I want to be a Queen." Very much the inner cry of many a Victorian woman, I'd have thought.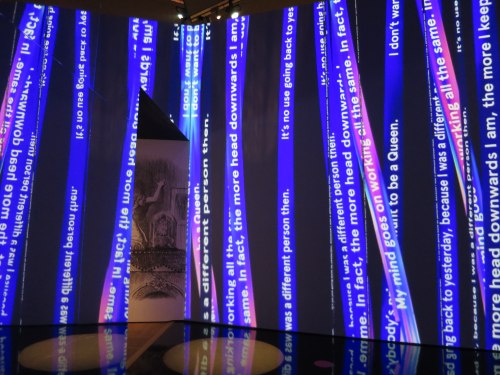 This final exhibition space was full of mirrors and dimly lit, and, in echoes of "Through the Looking Glass" I watched a small golden haired child walking through the room. But as I watched, she seemed to take off in all kinds of different directions as each mirror caught and reflected a different glimpse of her. It seemed a good way in which to end the exhibition.
27 April 2021
I just discovered this Japanese TV version of "Alice in Wonderland" from 1986. I've never seen it before and didn't even know it existed! This version is not subtitled in English but don't you love how it's put Alice in a Japanese context? I think it's great.



21 April 2021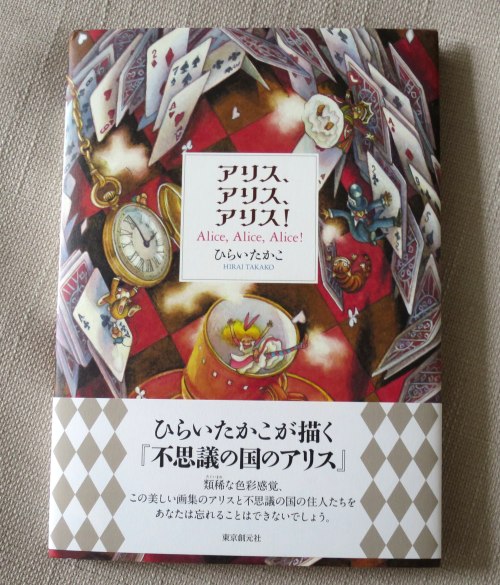 My friend Yoshi sent me another beautiful item created by well known Japanese illustrator Takako Hirai. It's called "Alice Alice Alice" and pulls together some of her cute postcards and other Alice drawings, together with some images that I haven't seen before.
Here, the White Rabbit's House is a 1930s villa growing like a rose on a very tidy rosebush - quite appropriate, as this is the sort of house I always associate with neatly tended gardens of roses.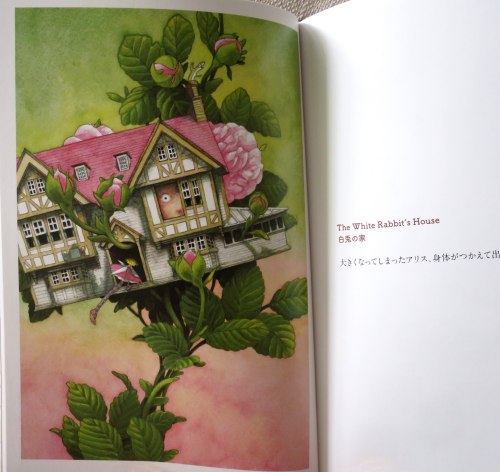 Lewis Carroll's actress friend Isa Bowman said that the most mysterious and thrilling parts of the stories he told to children often included a wood. Here the woodland theme is integrated with the playing cards which fascinate Takako Hirai. The leaves are made of clubs, hearts, spades and diamonds, with a tiny white rabbit tumbling out of the cascade.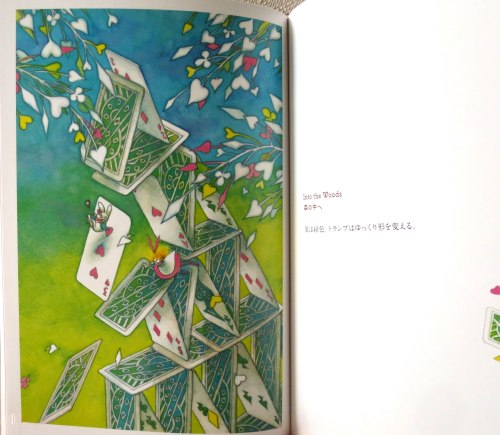 Of course I loved the title page with its nice message from Takako to me.
The little teapot opposite was almost my favourite picture of all. The Mad Hatter calls out of the window with a towering plate of buns, the Cheshire Cat sits on the saucer, as the whole thing sails through the air looking as if catastrophe will hit any minute - though you can be totally sure it won't.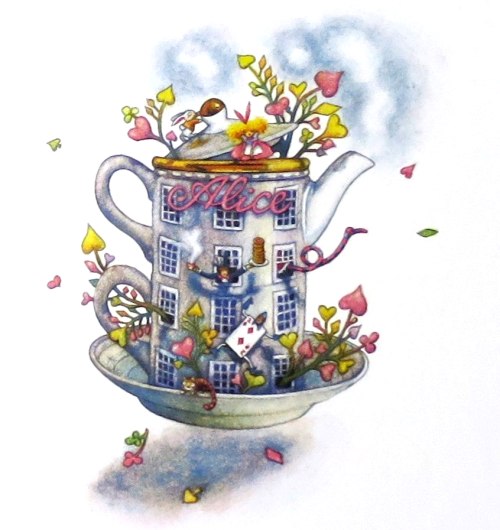 Endpapers are often forgotten in picture books, but here, the endpapers have tiny characters marching about endlessly amidst the magical leaves, in a very Victorian style of design. Maybe one day Takako will create wallpaper like this: I think it has possibilities.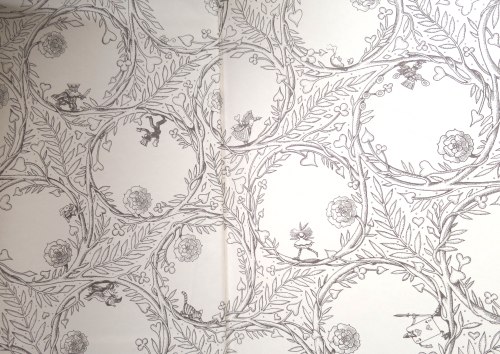 I wish I could show all the many pictures, but, as the Mad Hatter said, "No Room, No Room!" and in any case, the book is so beautifully produced it deserves to be seen in real life. I'm really grateful to Yoshi for this lovely addition to my little collection of illustrated "Alice" books.
27 March 2021
Yes, I think I could handle it if some kind person gave me an "Alice's Wonderland Drink Me" hamper from the Cheshire Cheese Company. This company is, of course, based in Cheshire, and it has always been well aware of the Lewis Carroll link. Close readers of "Wonderland" will know that Alice is offered a glass of wine at the Mad Tea Party, and, in fact, upper class Victorian children were often allowed to drink wine and spirits if their parents did so, although I don't know if Alice and her siblings were.
Anyway, the hamper contains 9 x 200g waxed truckles of cheese in various flavours (Old Hag Ale & Mustard Cheddar Cheese, Caramelised onion & Rioja, gin & lemon Cheshire cheese, El Gringo chilli lime & tequila, Irish Whiskey & stem ginger among them) 3 mixed packets of specialist biscuits for cheese, a bottle of Prosecco, a bottle of Ribshack red wine and a miniature Cheshire Gin No.7, plus a free gift from Alice of 3 decorative miniature wooden mice. Alice has also apparently added a free Cheshire Cheese Club membership card, although I'd have thought you'd have had enough cheese there to last you the rest of the year.
There's apparently also a Mad Hatter non alcoholic hamper, featuring Mad Hatter Tea, which I can vouch for as really delicious tea. But in this case, I think I would stick to the wine, and I'd guess Lewis Carroll would have done so too, as he is known to have liked a glass or two of wine. In fact, he even had the duty of keeping the members' wine cellar for a while - not a bad little task.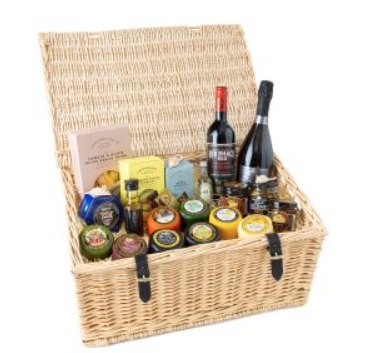 21 March 2021
I always wonder why editors commission particular illustrators for new editions of "Alice," which are coming out all the time. I quite like these pictures by
Andrea d'Aquino,
a New York-based artist who works a lot for the US press. They have a mysterious, dreamlike feeling, although they don't convey any of the cleverness and sharpness of the book, which are a large part of its attraction for me.
What do you think?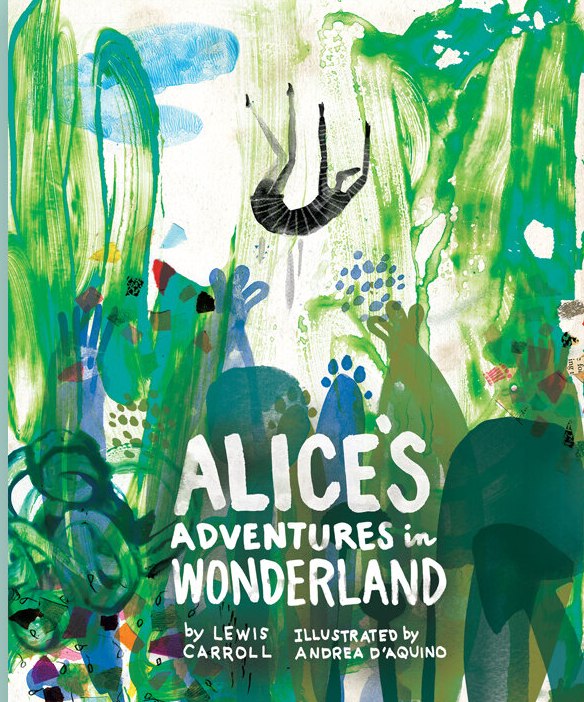 Here are some more of the pictures.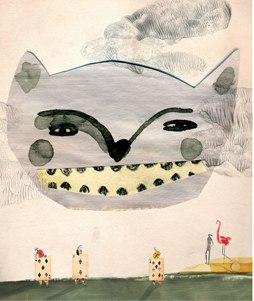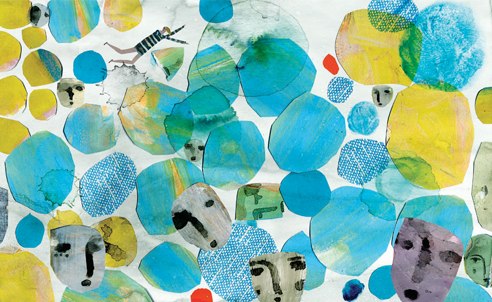 The truth seems to me that Alice is all things to all people.
14 March 2020
We went to see Tim Walker's photography show "Wonderful Things" at the V & A museum the other day. Walker really stretches boundaries and is one of the most imaginative photographers working right now. He's specially well known for his spectacular fashion shoots in "Vogue," but the show also included many personal projects, which I found even more interesting after I had read his own accounts of how he came to conceive and create them. His work may seem alive and full of movement, but it is the opposite of spontaneous, and relies on often gigantic and elaborate sets and truly surreal props.
So Walker's just the person to do an "Alice" project, you'd think; specially since in the introduction to the show he actually mentions Wonderland. I was surprised to spot only one definitely Alice-themed photograph (above). When I looked up his website afterwards, though, I found a whole group of "Alice" themed pictures, in a different style. They are images numbers 7-15 on
this website carousel.
The "Alice" iconography is so familiar and so many artists have tackled the book that it must be frustrating to try and create anything wholly original. Since extreme originality is one of Walker's main characteristics, I don't feel these Alice pictures are among his most typical images, although I don't think I ever saw black or white models used to represent the chess set...
Oh, come to think of it, perhaps I should go back and look a bit harder...
28 February 2020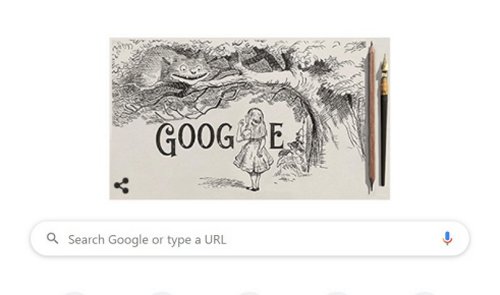 Today Google's Doodle features John Tenniel, who did the famous original illustrations for the Alice books. Tenniel, who became the principal political cartoonist of "PUNCH" magazine, was born on the 28 February 1820. He seems to have been a quiet, retiring and somewhat introverted man - long suffering, too, if an anecdote about his youth is to be believed. It seems that his father was a dancing and fencing master, who taught his son to fence. When he was 20, Tenniel was fencing with his father when his father accidently hit his eye with the tip of his foil. Tenniel never told his father that his eyesight had been permanently damaged by the accident, because he did not want to upset him.
He indicated that he found it a strain to work with Lewis Carroll because Carroll was so demanding. In fact, after illustrating "Wonderland" Tenniel actually refused to illustrate "Looking Glass," to Carroll's dismay... I wonder how Carroll persuaded him to change his mind.
04 February 2020
I've always thought that Lewis Carroll was essentially a story-
teller
rather than a writer. All the evidence suggests that his best work was done for an audience, real or imaginary. He wrote both "Alice" books when he felt exceptionally lonely, sad and stressed. They evoke happier times when he had expressed his thoughts and ideas to a sympathetic audience who loved him undemandingly and understood what he was trying to say.
Although he had many good male friends and was close to many male relatives, he seems to have valued the company of women and girls rather more than the company of boys and men. The social customs at the time made it difficult for him to become close to women as a young man, but once he reached late middle age he spent most of his spare time with women. He suffered from bouts of severe depression, and his treasured collection of little girl friends late in life, (which was considered really amusing by some who knew him) was recognised by his family as one of the ways he coped with the depression. Their visits and letters indicated that they loved and genuinely wanted his company.
The modern idea of "empowerment" of women and girls was long in the future in the 1860s and 1870s. But one reason that so many girls liked (and still like) "Alice" was because Carroll portrayed this seven year old girl with such personal respect. This was at a time when adult women were considered frail, weak, hysterical, and not capable of running their own affairs- and children were seen as creatures to be socially trained and their opinions and feelings were generally completely disregarded. Alice, though only 7, was strong, determined and had the confidence of youth, aiming to deal sensibly with whatever was thrown at her, even when she was scared, baffled and worried. A similar empowering approach is shown in this story Carroll told to little Mary Watson in 1871, (the same year as he wrote "Looking Glass.") In this new take on the "Three Little Pigs," Mary, though very young, calmly plans how to outwit the evil and frightening fox. It's fortunate that Mary Watson saved the pictures which he sketched to accompany his story. They are shown above and the text is
here.
24 January 2020
I was always in love with Kermit the Frog, and so VERY happy to find this on Youtube. Enjoy!!!!