04 September 2021
Curiouser and Curiouser at the V&A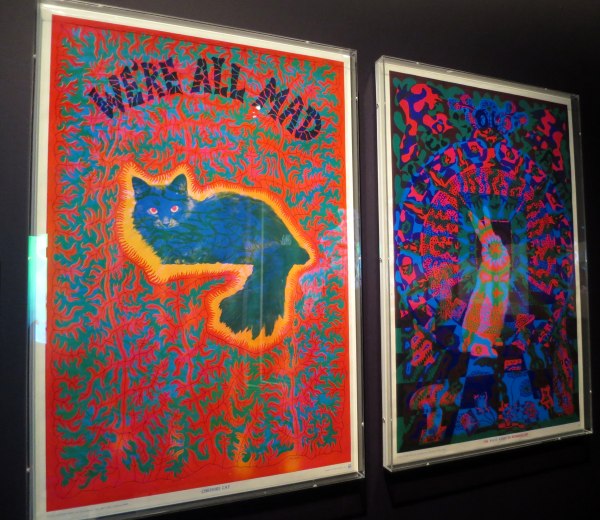 Finally, I managed to see "Curiouser and Curiouser" , the V & A's major exhibition on "Alice" - in particular the evolution of the story from a manuscript to a global phenomenon.
It's been eagerly awaited by Alice fans, but most of the time it was on last year, Britain was in lockdown and the museum was either closed, or had very restricted opening. Even after they extended the show, it was hard to go during the earlier part of this year. Tickets are in high demand, and we had to book
here
at 12 noon sharp on a Tuesday to be sure of getting in!
Anyone who has watched this
"Secrets of the Museum"
episode on the BBC will know how much trouble went into creating a Mad Tea Party for the exhibition. Animated film was used to create and change colours and patterns on the table,crockery and tablecloth (which swooshed up and spread out like a banner.)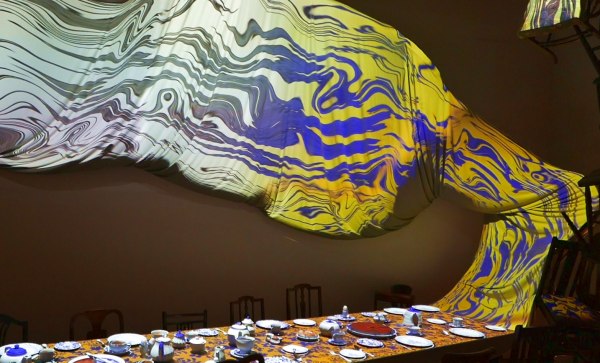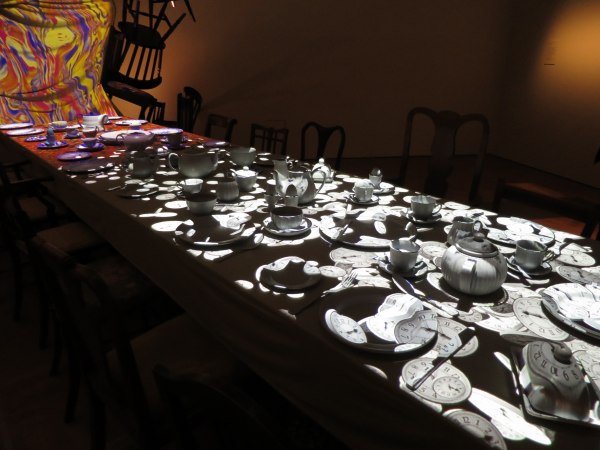 Alongside the animation was a clip from Jonathan Miller's BBC "Alice in Wonderland" film. This film uses many top actors and has a wonderful Gothic atmosphere. Unfortunately, though, Miller demanded a strange performance from the actor who portrayed Alice, in which the poor girl was supposed to represent a blank space in which the viewer could project themselves. It can't have been much fun for her to play. Here's a clip to give you the general atmosphere..
Anyway, when the clip from the film has finished, the teaparty begins to change colour and apparently come to life. It is worth checking on Youtube to see whether anyone has put a film of this on. Certainly many people were filming it when I was there.
The teaparty is one of the big setpieces, but since I'm most interested in Lewis Carroll as a person, I liked the parts which cast light on him and his world. (I noticed that this was also the section that had most people lingering and examining the exhibits carefully.) There are too many to mention but they include a dodo skeleton, and lesser known bits of Carrollania, as well as toys and small objects inspired by the book, such as this little cut out scene spied through a hole in one of the doors. It is, of course, the wondrous garden which Alice glimpses through the tiny door when she is shut in the hallway.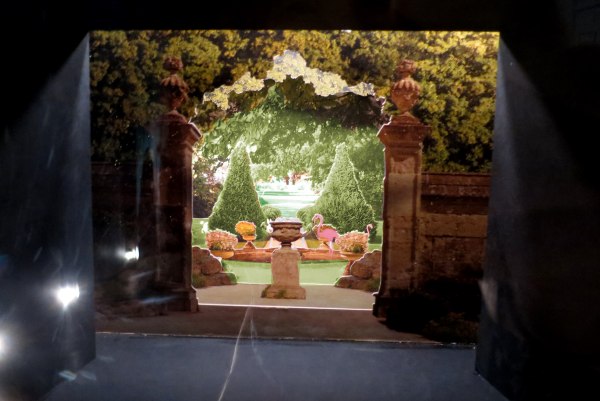 There are also sketches which Carroll apparently did for his own illustrations of the handwritten version of the story which he gave to Alice Liddell herself, and a set of cards for the game of "Ways and Means" which he created in his youth to amuse his many brothers and sisters. I like the card showing the young man representing "The Friend" although the resigned looking cat also makes me smile.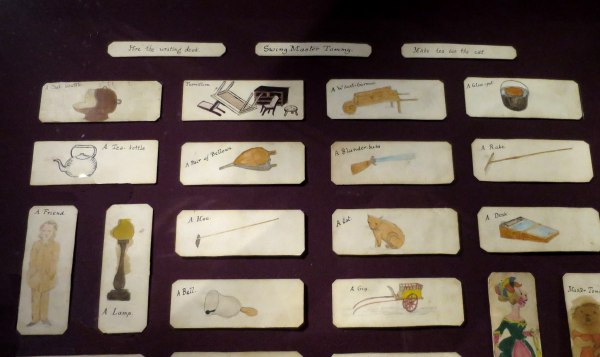 I had hoped that someone might have made up a replica of this game to sell in the gift shop, as I'd have liked to know how it was played, but that wasn't the case.
I also liked a paper panorama of Humpty Dumpty's story which the Dodgson children played with in their youth, and almost certainly would have been in Carroll's mind when creating his own Humpty Dumpty character.

Many of the exhibits showed aspects of the Victorian age which were relevant to "Alice" the book. This huge, expensively made and somewhat grotesque clock (below) could only ever be Victorian, and to me it sums up the period well, right down to the rather moralistic reminder that TEMPUS FUGIT in enamelled mock-medieval lettering.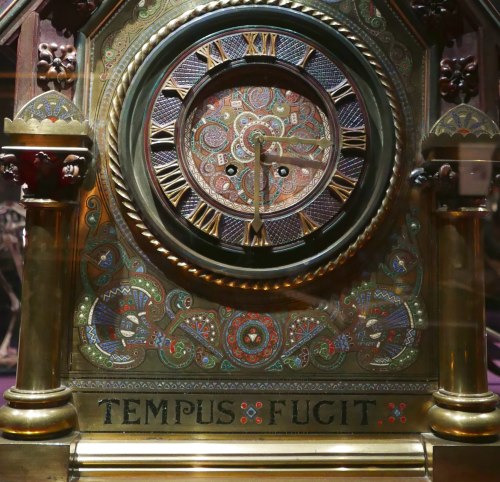 The exhibition catalogue has many pages of pictures from
the virtual reality exhibit
and many of the gifts in the giftshop also feature the VR steampunk-style artwork, which was created by Kristjana S. Williams
In real life, I'm not sure how many people got to see the VR at the show. There weren't many headsets, and a long and rather crowded queue offered a twenty minute wait for the chance of five minutes playing the Queen at Hearts at croquet. But it looked fun, and well done, and if you have VR at home, you can download it for a very reasonable price.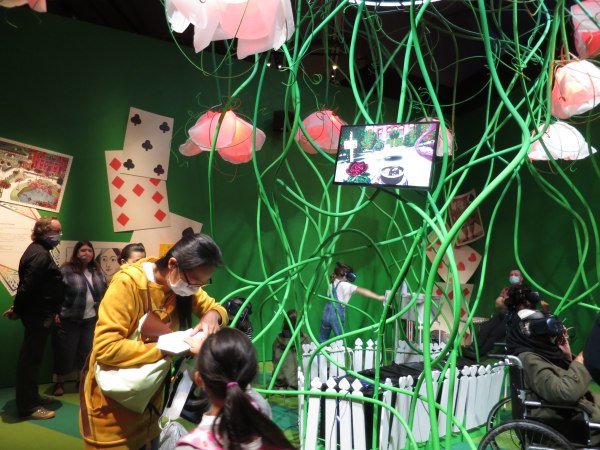 There is a large but rather sparse section on the seaside. I thought the highlight of this was a big animation of bubbling water cascading ceaselessly into a pool, with quotes from the book floating about .... mesmerising.
The seaside area contains a section on film and theatrical performances, including several gorgeous vintage film posters and material I hadn't seen before. In fact, even when I went to the Walt Disney Family Museum in San Francisco, I didn't manage to see all Mary Blair's brilliant conceptual sketches for how the Disney "Alice" should look, so it was really good to see them again. They were hard to photograph at the show, so
I've linked to some online images.

One of the more baffling Disney-related exhibits was also in this section. It is part of a transcript of a discussion between Walt and Aldous Huxley, who was apparently being considered as an advisor to the film. Aldous Huxley? Why? Could he have been asked because of his experiences with mescalin? It's hard to imagine Walt wanted to make a feature of drug use, but who knows?
But, obviously, hallucinogenics do have their place in the show, including posters from the shortlived but famous American studio "East Totem West" (they did the cat at the top of this post). And, perhaps predictably, there was a film of Jefferson Airplane's "Go Ask Alice."
The exhibit before the exit was one of my favourites. It shows ribbon-like projections constantly twisting and bending into curious shapes - a bit like flowers, a bit like trees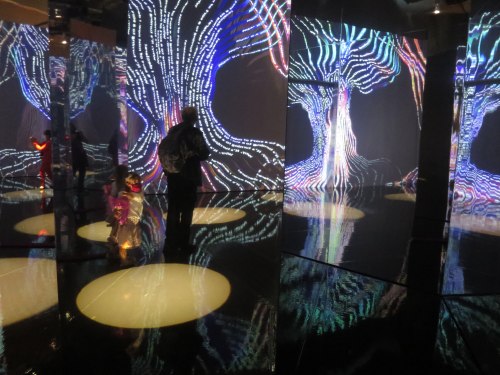 They display some of Alice's more prescient or thought provoking comments, such as "I don't want to be anybody's prisoner - I want to be a Queen." Very much the inner cry of many a Victorian woman, I'd have thought.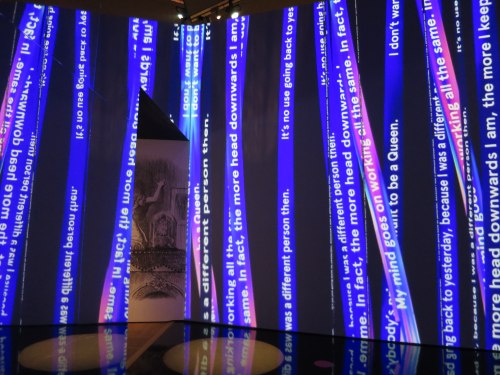 This final exhibition space was full of mirrors and dimly lit, and, in echoes of "Through the Looking Glass" I watched a small golden haired child walking through the room. But as I watched, she seemed to take off in all kinds of different directions as each mirror caught and reflected a different glimpse of her. It seemed a good way in which to end the exhibition.