10 August 2016
Lewis Carroll, Eastbourne and the Bed Desk.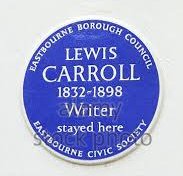 Kay, from Georgia
, who reads
my other blog
just wrote to me and told me about an exhibition in The Redoubt, at Eastbourne. Eastbourne is where Carroll went on his holidays in the latter part of his life. Just to fit in with the holiday mood,it seems he had a "bed desk" made to fit over his bed, so he didn't have to get up in the mornings to do his correspondence. (I suspect he also enjoyed feeling he didn't have to get up regularly to attend early morning chapel, as he did in Christ Church, for he was not a "daytime" person.)
The desk was specially made for him and might have been another of Carroll's inventions; he loved to adapt everyday items to suit himself. Even though it is possible these days to buy bed tables for invalids, I don't think I've seen anything similar from Carroll's day. He was not very interested in food but no doubt he did use the table for the occasional breakfast in bed.
Take a look at this Eastbourne museum blog post, which has some more information about Carroll and Eastbourne
here.
The picture at the top of the post shows the plaque on the house in Lushington Road, Eastbourne, where Carroll used to stay. And here is the house itself, photographed at around the time when he used to stay there.