11 March 2015
White Rabbit Day At Ripon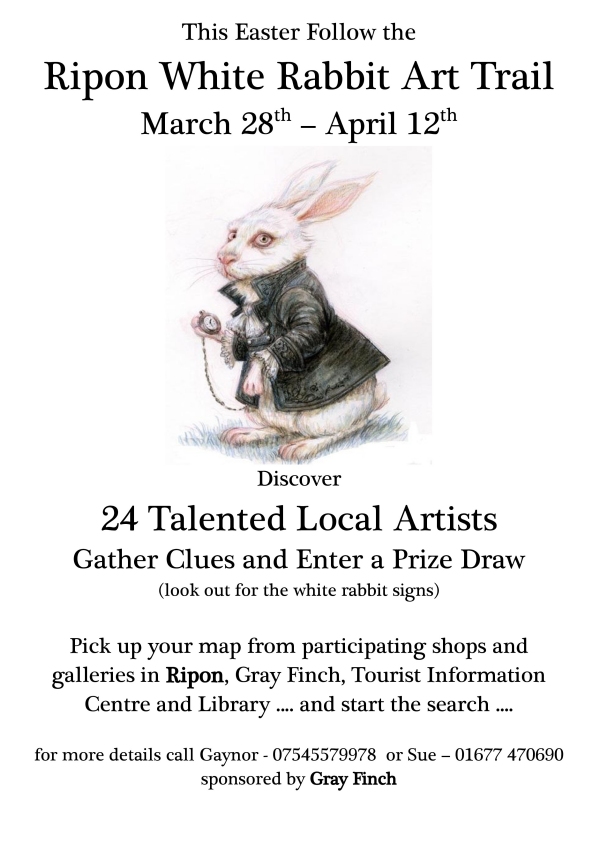 Lewis Carroll's father was Archdeacon of Ripon, Yorkshire, and he knew the town well. There will be a White Rabbit trail through the city at Easter, beginning on n 28 March, and running till 12 April. Multi media works will be presented from 27 artists in various parts of town - you can see some them
here
I think some of them are really great, specially the dodo. Trail maps and printed info from Ripon Library, Ripon Tourist Info Centre and Gray Finch, 13 Kirkgate, Ripon, HG4 1PA.
Ripon's a beautiful city with lots of things to do and see, with some quirky shops. We visited years ago when we were walking near Fountains Abbey nearby. We also visited the beautiful gardens at
Newby Hall
but didn't manage to see the Ripon Hornblower or the extraordinary Druid's Temple folly. I hope to get back there next year when I return to Yorkshire - though sadly I doubt there's time to get there before Easter.