21 August 2013
A Very Unusual Tea party at Kew
I went to Kew Gardens yesterday for a birthday picnic.Weather was beautiful, and Kew was its usual lovely self. On the way to our picnic spot, we cut through the Rose Garden, near the Palm House, and spotted a very unusual tea party.
Modelled on the Mad Hatters Tea Party, it is a tea party featuring edible plants that might make up a British tea. (Well, by quite a stretch of the imagination - I personally don't eat chilis for tea. But never mind). A watering system beneath the table enables the plants to keep growing, in some cases they appear to grow out of the plates themselves. Here's one of the gardeners planting some pansies in a plate.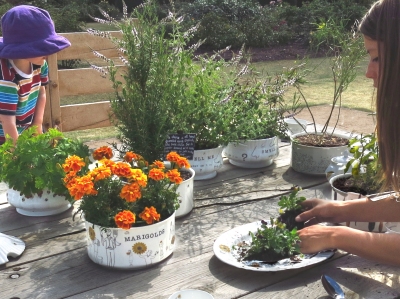 There are specially designed cups, plates and bowls scattered across the table - screwed down, in case anyone feels like helping themselves... like this little person in his purple hat.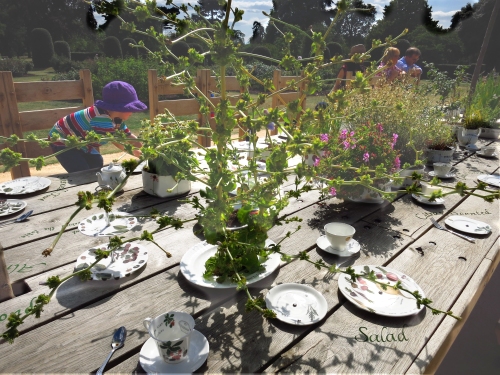 The table is a nice, solid construction, made of oak by craftsmen, and the crockery (all sourced from old white bone china) has images ranging from rather cartoony sketches to botanical illustrations to reproduction of paintings. Mostly, they refer in some way to plants. In the foreground here, for instance, is a plate showing the political reformer, the 2nd Earl Grey - who also gave his name to the famous blend of tea.
But there is also an acknowledgment of the inspiration behind the art installation - the work of our hero, of course - as you see here!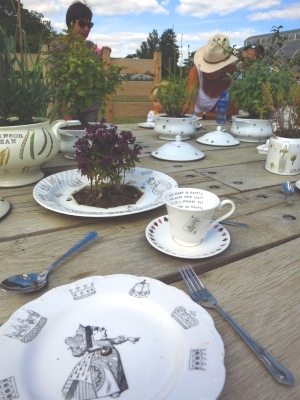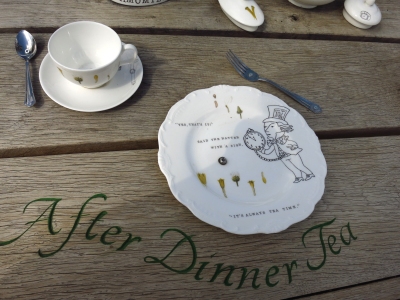 The artist who created the installation, Kirsti Davies, has written much more about it
here
- take a look.