09 December 2014
I'm still recovering from a long trip that included a wonderful three weeks in Japan. I went there to give a talk at the Lewis Carroll Society of Japan's AGM in TOkyo, and it was a great experience. I can't begin to say how kind all the Japanese Carrollians were that I met. Yoshi (who I will show in my next post) more or less masterminded the trip, and everyone was so friendly to both T and me. They made sure we lacked for nothing and any problems that we encountered (usually to do with reading, writing or finding out way around) were quickly sorted out. Eiko (at the centre in the picture above) also took us to all kinds of places we wanted to see, and on one occasion she achieved the difficult feat of finding an ATM we could draw yen from. We had never expected it to be so hard to draw cash, and were even more surprised when the ATM turned out to have a phone next to it on which you could call an operator to help if you had any problems using it! Thank goodness that Eiko understood it all!
As many people have said, Japan is very different indeed from the West. This is one of the things that makes it so fascinating to Westerners, and one of several reasons why we were not bored for a moment. It is also a very safe country, so we never felt threatened because of our ignorance; although most people did not speak English, everyone seemed to want things to run smoothly. Of course, some of the ways in which the country is different from the West can also take Westerners by surprise. We spent quite a lot of time sitting in one restaurant, for instance, before an English speaking person on the next table kindly pointed out that we should have ordered and paid for our meal from the machines just inside the door. We never gave these brightly coloured machines a glance when we entered, because it never occurred to us that they could be for ordering and paying, and of course we couldn't read the Japanese writing on them which said so. We were also similarly baffled in supermarkets, where food often didn't taste at all like we expected. On one occasion, for instance, I bought fish when I thought I was buying sweets. Well - it WAS stamped with "Hello Kitty"!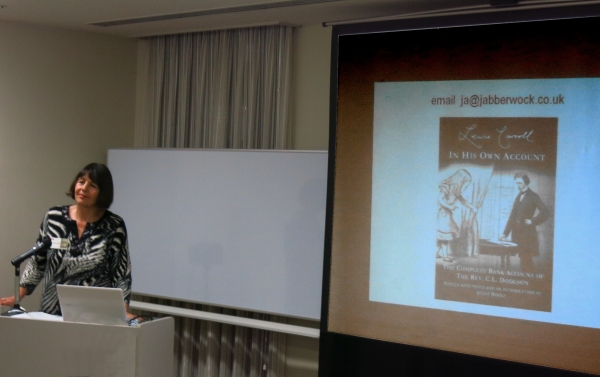 Here I am, listening to questions after the talk. Although the biography is due to be reissued and revised next year, I decided to talk instead about the way in which Lewis Carroll's bank account casts a different light on him, showing him to be a person quite unlike his popular image in many ways. I am starting to think that I should say more about that - because it's certainly true, and I'm probably the best person to say it. After the talk, I was glad to have many lovely responses from people who had heard it and said that it had changed their way of looking at Lewis Carroll.
I have literally thousands of photos of Japan and I am still digesting the experience, but I will write more posts, in particular about the amazing Alice restaurant we visited in Tokyo, courtesy of Yoshi, and some of the other good times. I'll also write on my
other blog
as soon as I can.
03 October 2014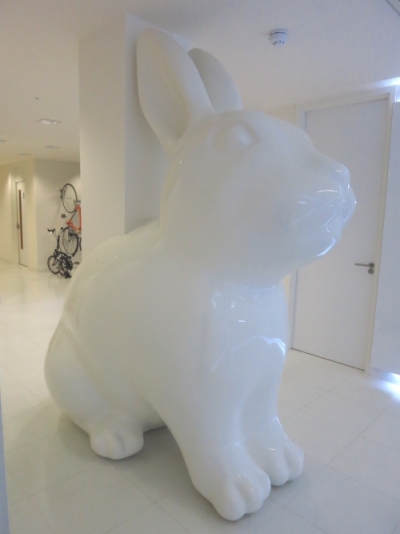 The LCS meeting last Wednesday was tremendously interesting. Sarah Stansfield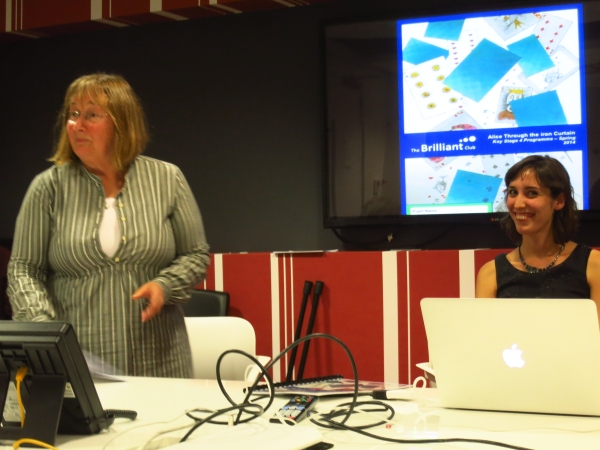 introduced two great talks - one by Cristina Neagru who looks after the special books in Christ Church Library, the other by Ella Parry Davies, whom you see here. Ella is a PhD researcher who is also a tutor at the
Brilliant CLub.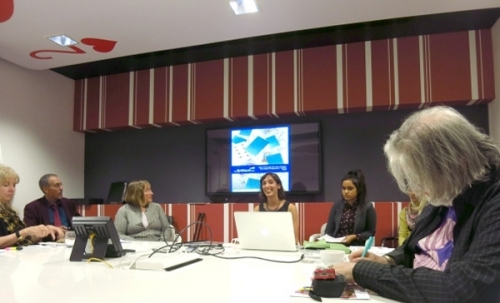 Both talks were very interesting, but I was particularly drawn to the work of The Brilliant Club. It's an organisation that seeks to widen access to top universities for bright children from non-selective schools, and it does it by fostering extra curricular programmes like the one Ella had devised. Called "Alice Through The Iron Curtain," it was about investigating the the artistic and political significance to Iron Curtain illustrators of Lewis Carroll's work. Not as arcane as it sounds, since "Alice" was considered subversive and illustrators responded in ways which were both personal and anti-establishment.
Ella brought along three pupils from Plashet School in East Ham, and they talked about what they had learned from the course. We saw a few slides of their projects, but personally I'd have liked to have seen even more of their work. They were obviously very bright girls who well deserved the chance to attend a good university.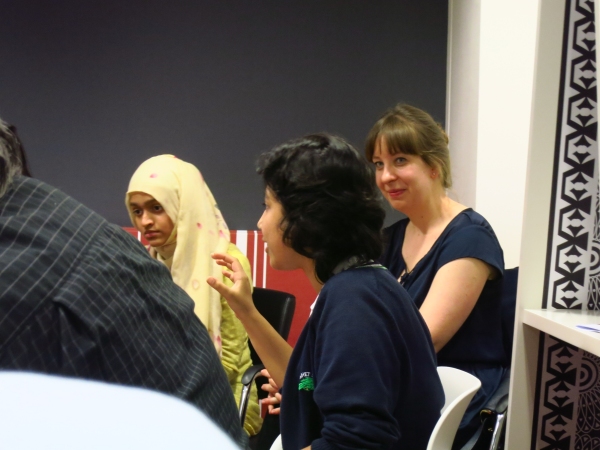 As for the building, it's called @Waterloo, and it's a block of trendy serviced offices themed on Alice in Wonderland.
I didn't photograph everything there is to see by any means, but the boardroom where Bob was checking his watch (see previous post) has a nifty reflective section in the ceiling - or is it the upside-down lawn of Looking Glass House?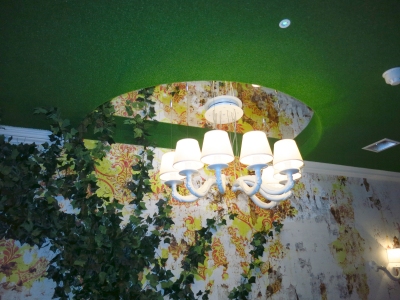 There's a rather strange shelf with bar stools along it in the entrance hall, in just the right location, it seems, to take a cheeky look up Alice's skirt.... assuming that IS Alice - she disappears into the ceiling before you see far enough up to check that it really is her.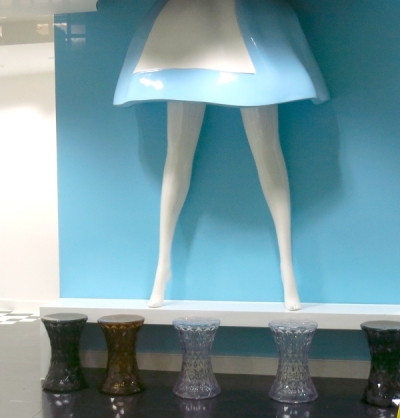 The boardroom where we held the meeting was themed on giant playing cards which zigzagged around the walls and above our heads in a disconcerting way. I don't know if the bag belonged to an LCS member, but it looked just right.
01 October 2014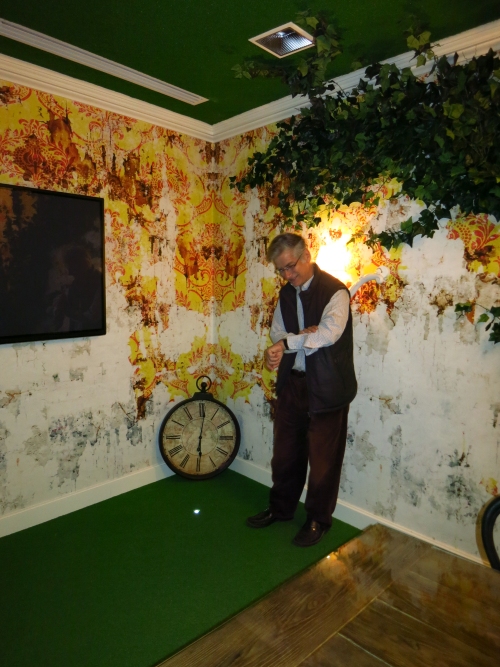 So Bob looked at his watch, and it was exactly six p.m!
Being a member of the Lewis Carroll Society, Bob knew what Lewis Carroll would have said about relying on a stopped clock.
"If you have the choice of two clocks, one which has stopped and one which loses a minute a day, which do you choose?"
"The losing one," you answer, "without a doubt."
"But," says Carroll, "The one which loses a minute a day has to lose seven hundred and twenty minutes before it is right again, so it's only right once in two years. But the other is right as often as the time it points to comes round - which happens twice a day."
So the stopped clock is evidently the best!
But, you might go on to ask, "How am I to know when six o'clock does come? My clock will not tell me."
To which Carroll replies, "Be patient: you know that when six o'clock comes your clock is right.. Keep your eye fixed on your clock, and the very moment it is right it will be six o'clock."
"But--," you say.
"There, that'll do; the more you argue the further you get from the point."
So just to be on the safe side, Bob had a working watch too. But when he checked it, he found that the stopped clock WAS exactly right. Six o'clock, and time for this evening's Lewis Carroll Society meeting. And very interesting it was too, in a most unusual building which I will tell you about next time.
20 September 2014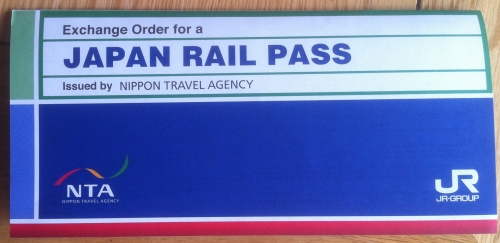 The Japanese translation of The Mystery of Lewis Carroll is nearly finished, and next month I will be going to Japan to talk at the LCSJ's annual conference in Tokyo. I'll be seeing Yoshi, Rie, Reiko and their families, Eiko, Katsuko and Yoko and we will also be seeing as much of Japan as possible. I'm specially looking forward to seeing "Alice" themed places in Tokyo!
Today, J
apan Experience
has just sent the Japan Rail Passes. How exciting!
02 September 2014
Well, I know it isn't really - at least, I don't know of Lewis Carroll ever visiting this garden. It's at Bridge End, Saffron Walden, now in the care of the local council, which does a great job. The garden was created about 15 or 20 years before Alice in Wonderland. I can't help feeling that Lewis Carroll must have had something in mind that looked like this - and the roses are all red, white or a mixture of the two!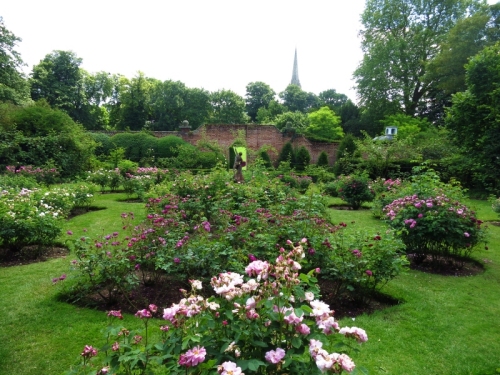 30 August 2014
If the following doesn't show, your browser might be blocking third party items - this is from AOL
20 August 2014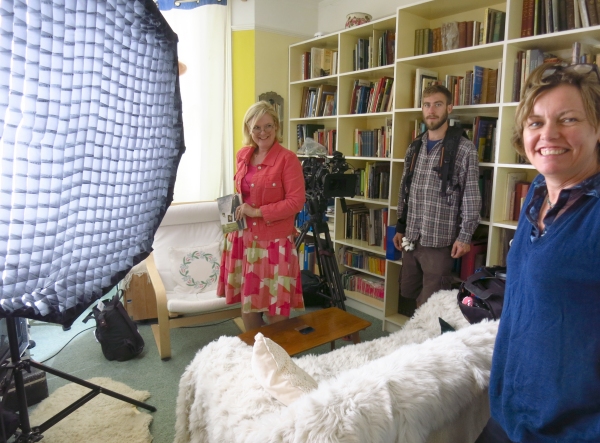 I was interviewed yesterday for the BBC documentary on Alice in Wonderland, which will be presented next year by Martha Kearney. It was an interesting experience having my office taken over by 5 people with two car loads of equipment. I sat in the sofa in the foreground, with the large diffuser to the left. On the right of me, almost touching, was a large white reflector (not shown) which made me feel a bit as if I was in a box. The camera was straight ahead and there was a monitor to the left I was wired for sound and a recordist was waving a boom above my head.
They were all very nice and I was impressed by their immense professionalism. Of course they SHOULD be professional, but I always enjoy working with people who really know what they are doing. I'll look forward to seeing the documentary. And if that diffuser wasn't so big, I'd love one. It was a most ingenious thing and gave the kind of soft white light that would be ideal to light the place up during winter's dark days.
10 August 2014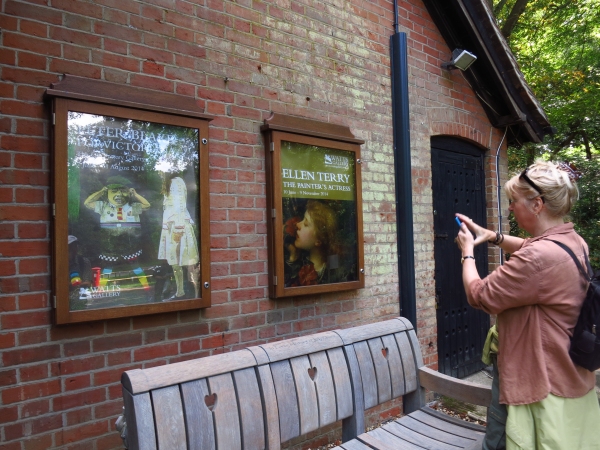 Yesterday the Lewis Carroll Society organised a walk from Guildford station to Compton, about 2-3 miles away. So it was my chance to see the Ellen Terry show in the Watts Gallery (below). Terry had a short lived early marriage with GF Watts (the painter whom the gallery commemorates). I was really glad they did, as returning to see the exhibition was one of the things I probably wouldn't have got around to doing.
There wasn't anything about Lewis Carroll in the exhibition, actually, but there were films and recordings of Ellen Terry which indicated what a compelling actress she was. Lewis Carroll spotted her potential when she was nine years old, and appeared on the stage in a play he was watching. He always hugely admired her.
The walk to the gallery was really wonderful. It took us over the beautiful Surrey countryside, through woods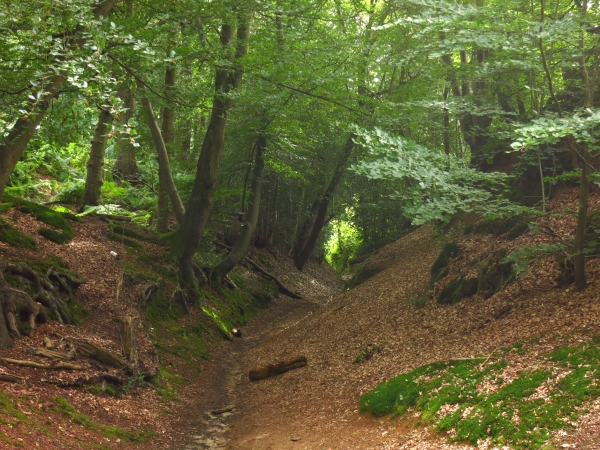 and downland. It was here, on the downs above Guildford, that Carroll got the idea (and the last line) of Hunting of the Snark, and his walks in the area inspired him to write much of the rest of this curious poem.
As you can see from the top photo, there was also an exhibition on Peter Blake. I've never been a great fan of his work but I do like his "Alice" illustrations and these were in the show, together with some much larger works. Afterwards, we went down the road and up the hill to the chapel designed by Watts's second wife Mary in the most remarkable eclectic style - here are some LCS members outside a memorial gallery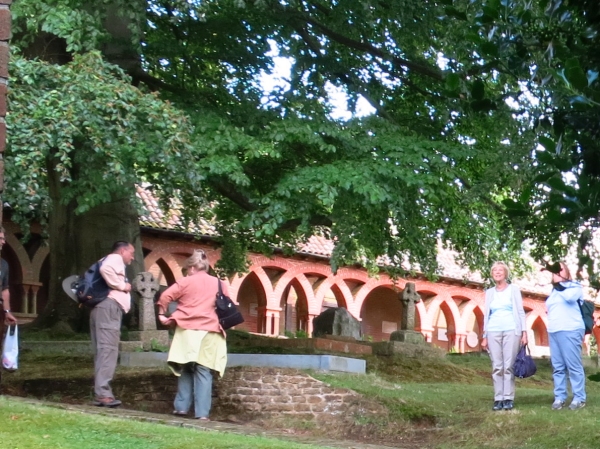 The chapel is quite impossible to classify. Its extraordinary interior decorations are in vaguely Arts and Crafts style and mostly made of pottery tiles, Mary's passion. These pictures can only give an idea of the overall effect, which was highly impressive.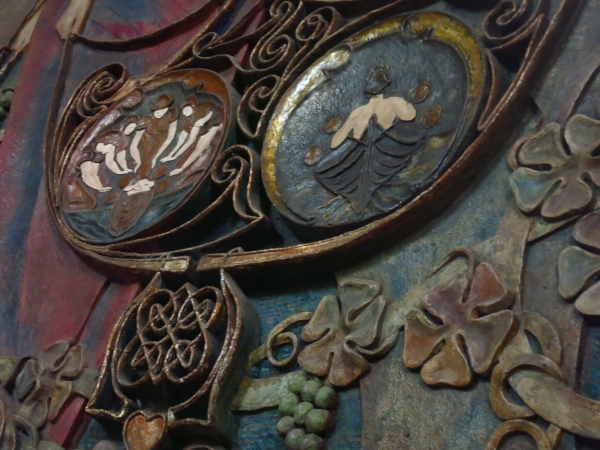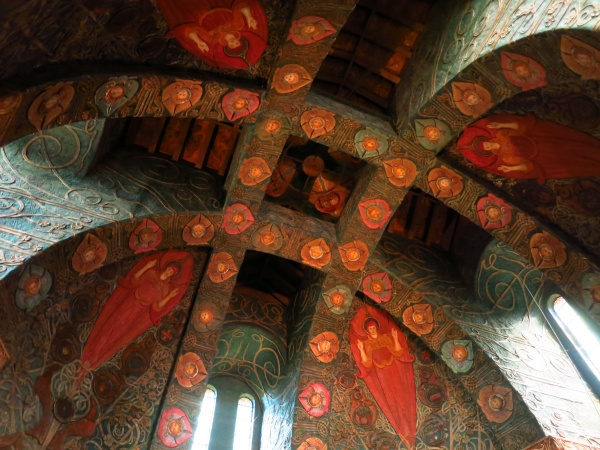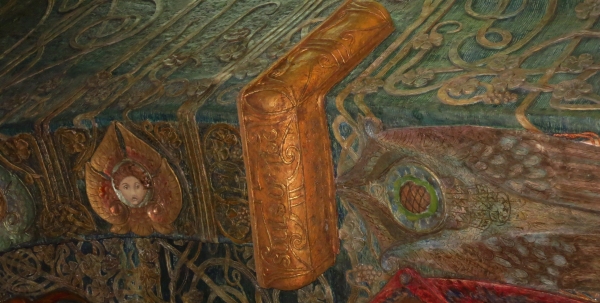 The exterior was mostly of terracotta, with vaguely Celtic decorations by Mary Watts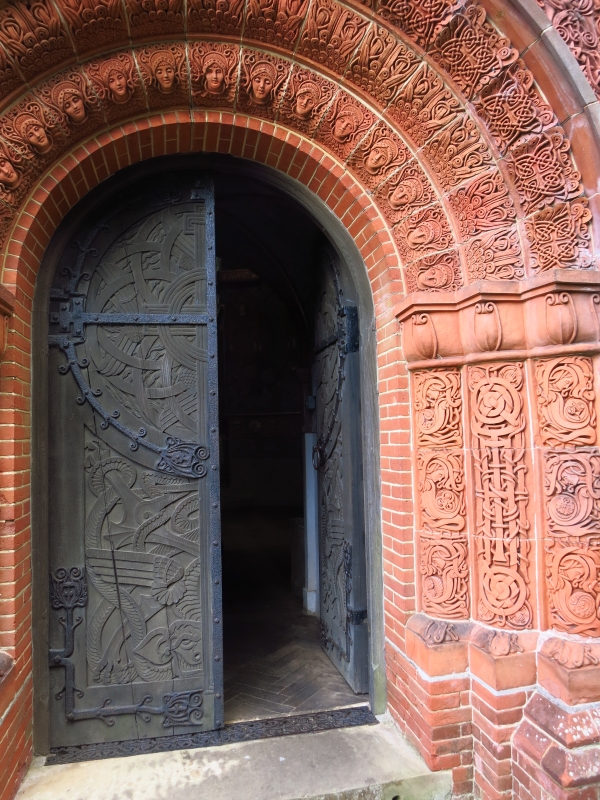 As far as I know Mary Watts never did any other projects. In my personal opinion, the chapel is more intriguing than anything either Watts or Peter Blake have ever done.
05 July 2014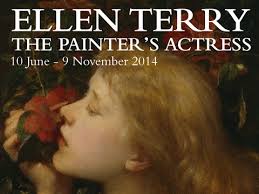 Recently went along to the newly refurbished Watts Gallery in Surrey. It is generally concerned
with aspects of Victorian art
,and its inspiration is G F Watts, a well known Victorian painter. Lewis Carroll knew Watts, although I don't think he thought much of him, since when he was 46, Watts married the famous actress Ellen Terry who was just sixteen, in what proved to be a disastrous union. Watts even made Terry - one of the theatrical geniuses of her day - give up the stage, as he didn't want her to work.
Ellen Terry was a good friend of Carroll's; in fact, it's fair to say that he was a true fan of hers and revelled in being admitted to her circle of friends. He had known her and her family socially since she was very young, and it was rumoured that he was in love with her when she grew up, although there is no evidence of this. He did try to justify her behaviour in running away from Watts less than a year after their marriage, and subsequently living unmarried with a man and having two children with him - behaviour that really was social suicide at the time. Even Terry's own family refused to see her until she married and "made an honest woman of herself" some years later.
Times change. It's hard to imagine the way things were then. But anyway the Watts Gallery is a great place. It was once the centre of a kind of "artists village" and until quite recently it had a charmingly "forgotten" atmosphere, but it has now been very attractively and carefully modernised, thanks to the National Lottery. I visited it a few weeks ago and admired several ceramic plaques set in a wall commemorating donors and other people who had helped make the refurbishment happen.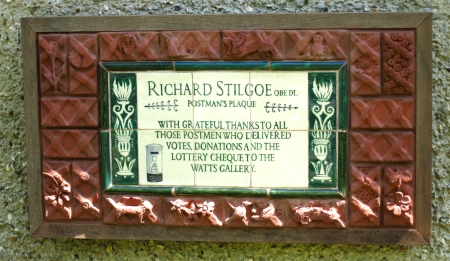 I shall be returning to see the Ellen Terry exhibition which will be running at the gallery till November 9th this year. The image at the top of this entry shows part of a portrait Watts painted of her, which the gallery has used for its exhibition poster.
28 June 2014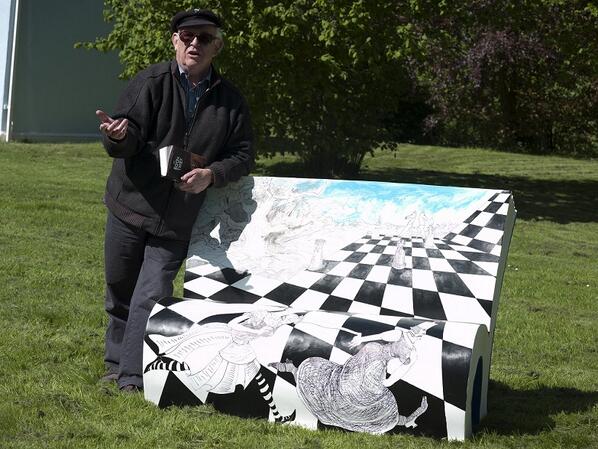 A wonderful public art project is launching in London - Bookbench. Artists will illustrate favourite books to celebrate our literary heritage. Ralph Steadman is doing a "Through the Looking Glass" bench based on the illustrations he did for the book in 1972. Not my favourite illustrations in fact, but they'll make a great bench by the look of it.
More about Bookbenches
here
.